Silenced Stories
Banned book week celebrates diverse voices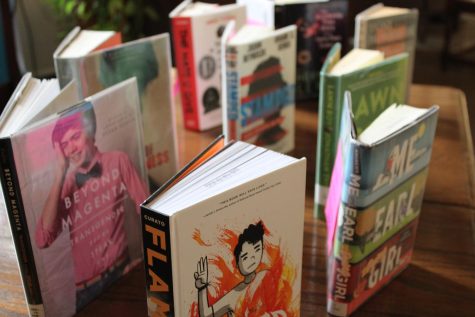 Banned Book Week has been an annual event from Sept. 18 – 24 where people read and acknowledge banned books.
Between January 1 and August 31, 2022, the American Library Association (ALA) documented 681 attempts to ban or restrict library resources, and 1,651 unique titles were targeted. In 2021, ALA reported 729 attempts to censor library resources, targeting 1,597 books, which represented the highest number of attempted book bans since ALA began compiling these lists more than 20 years ago, according to their website.
The most targeted books were by or about Black or LGBTQ people.
Tonya Foster, Topeka High librarian, believes that there are some books that shouldn't be put in elementary schools but "when you're in high school you have a right to read whatever you would like and when in high school you try and find yourself."
Foster acknowledged that not everybody likes to read the same things.
"There is a book out there for everyone.," she said. "It's okay if you don't like a book then you can just not read it but there are people out there that would probably love to read it." One of the librarian's jobs is to help everyone find a book they love.
Foster said, "It's always a choice what book you read. Your family has a right to say 'I'm uncomfortable with this' and then hopefully they can talk about it."
Foster doesn't think books should be banned "I don't have the right to tell anyone that they can't read something and it's up to you to say what you're ready for. You are old enough to choose."
At the same time, Foster said students are not likely to find sexually explicit books in he school library. There is, however, a small display of banned and challenged books available for check out on the back of each book is a label that describes sensitive topics or profanity.
English teacher Jacquelyn Bliss believes that when you ban books "you are limiting people's choices."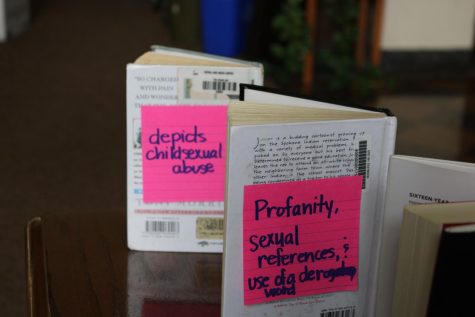 Bliss said, "I had a kid that read The Rise of Hitler by Trevor Salisbury. He did not agree with anything there but he learned a lot."
Bliss agreed that people shouldn't ban books. If they don't like a book or don't agree with it, they don't have to read it.
Bliss said, "Some people find themselves in books and when you take that away from them they can't find who they are."
LIST – of the top 10 challenges/banned books of 2022:
1. Gender Queer by Maia Kobabe
2. Lawn Boy by Jonathan Evison
3. All Boys Aren't Blue by George M. Johnson
4. Out of Darkness by Ashley Hope Perez
5. Hate U Give by Angie Thomas
6. The Absolutely True Diary of a Part-Time Indian by Sherman Alexie
7. Me and Earl and the Dying Girl by Jesse Andrews
8. The Bluest Eye by Toni Morrison
9. This Book is Gay by Juno Dawson
10. Beyond Magenta by Susan Kuklin
Leave a Comment