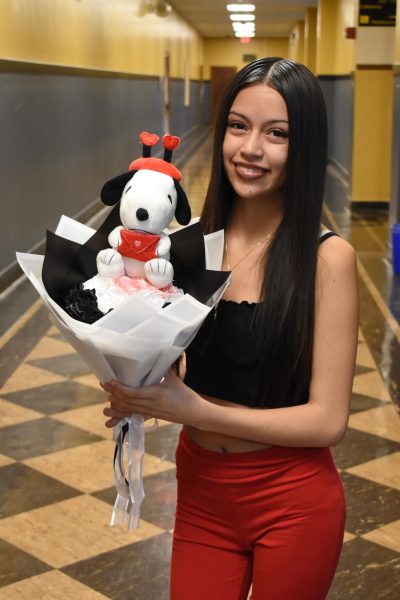 Sophomore, Damaris Sanchez (10), blooms with her business, Rosas Eternas con Damaris, otherwise known as Eternal Roses with Damaris, a business of making handcrafted rose bouquets. It's an arts and craft hobby she has loved throughout her lifetime and has now transformed into a successful venture.
Her journey began after she had lost an important piece in her life, her dog Zena.
"That was my 'best friend'," Sanchez said, "I never had the confidence to publicize my work but for some reason, it pushed me to want to do better in life. She loved to be with me while I worked on things like that so I finally decided that she would rather keep seeing me do what I love."
Her best friend inspired her commitment and pushed her to enrich the community through art.
Currently, she offers regular bouquets and eternal bouquets, which are named Ramos or a Ramos Buchon (i.e., a Bouquet or a Buchon Bouquet, which are domed-shaped). Any accessory can be added to the bouquet to make it your masterpiece.
This is how the process is laid out: it takes 15 minutes to craft each flower, and placing them when they are completed takes around 10 minutes. Finally, wrapping them takes another 20 minutes. While it may not seem like a lot of time, imagine a bouquet of 20 to 30 roses.
Sanchez said, "They can usually take 15 hours to make with about three hours for five different days. Each day I do one step, first I make the petals, [and] then I [weave] the petals into mini roses. [Afterwards], I add more petals around to make them fluffy. I find the placements for the flowers, then I wrap them and add any extra accessories."
The cost of bouquets starts out at 12 roses for $20, 20 for $30, 30 for $40, sunflowers $5 each, plushes added for around $15 and additional accessories are $3-$10.
Social media marketing has played a huge role in her business. She advertises her products via social media networks such as TikTok (@eternas.con.damaris) and Instagram (@rosas.eternas.con.damaris).
She attracts the attention of local customers in the area and inspires them for what they want: her best attractions by far are her plushies, she said, "Famous plushie characters are always eye-catching to everyone."
So far, her feedback has been nothing but positive, and she is grateful for that since it pushes her forward with what she loves to do. Customers have sent videos of their loved ones receiving the bouquets, bringing a heartfelt response.
Sanchez explained, "The smiles on all of their faces when they see them are always so heartwarming to me." Although she hasn't received any negative feedback, she encourages customers to tell her how she can improve her services.
Her upcoming venture is gift baskets, which she aspires to do. "Gift-giving is also a love language you could never push away." Sanchez said, "I plan to start my own florist shop in the future, which would sell my products or any of the materials I use for other people who might want to do it on their own."
Sanchez shared advice to those wanting to start their own business and how to manage customers. She said, "Never doubt yourself, keep your head up [and] don't let the stress get to you. Always remember to have a good attitude with people and give them what they want no matter how you feel about it."