I Like Ike: Juniors Visit the Eisenhower Presidential Library and Museum
Juniors from social studies classes went to the Eisenhower Presidential Library and Museum on January 17, 19, and 20. The Eisenhower Foundation gave Topeka High a grant of over $3,000 to pay for the bus fees. The foundation additionally let all ~180 students experience the site for free along with gift bags.
The students went at a time when most of them in history classes were learning about the Cold War and Dwight Eisenhower, former president of the United States and a 5-star general. One of the three school buses broke down when they were about to leave the museum, but everyone was able to come home at the same time by sharing seats and using a van that was brought in case of emergency.
The Eisenhower Presidential Library and Museum is devoted to studying the life, presidency, and military time of Dwight D. Eisenhower. He and his wife, Mamie Eisenhower, are buried in nearby chapel grounds and his childhood home is also on-site, preserved right where it was in Abilene, KS.
History teacher Boone Smith said that the field trip, "Gave students a hands-on view or opportunity to touch and interact with some of the things that were used in World War II because of the amazing classroom they have set up for students there."
Smith said, "No history teacher here remembered us ever bringing students to the Eisenhower Museum and Library. It doesn't mean it didn't happen, but we have people in our department who have been here for 18 years."
He goes on to say that his favorite part of the program was when,"They put out soldier boxes with personal information either directly from the soldiers or replicas from the book the band of brothers […] where we got to learn about who they were and see their actual [things]. Like this guy had a compass, this guy had these papers, this guy had this kind of–a flag or a shirt. You got to know the real people who were there in World War II, and to me that was fantastic."
They had real copies of photos of wives and families. In one photo, a soldier was a part of a college baseball team that included Jackie Robinson.
AP US History student, Kaemyn Kebert (11) also talked about that activity, she said she, "Got to put the hats on and the clothes […] our person was a medic and so we had his med kit and his personal hygiene set. I accidentally inhaled some of the really old soap."
Kebert said that she liked the exhibit with Mamie Eisenhower's clothing, "His wife is very fashionable." Kebert additionally described two exhibits, one with "A bunch of guns and swords," and a "Room of paintings."
There were also building pieces from D-day, information on placards everywhere, and an authentic table set where Eisenhower and his associates discussed important matters.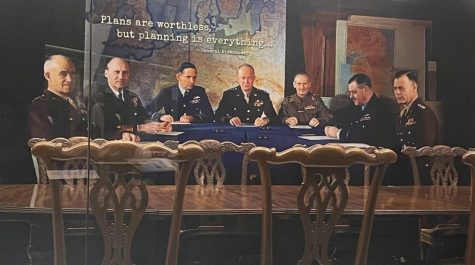 Ke Ni (11), also an AP US History student, said something she learned was, "His nickname was 'Little Ike' or 'Ikie' […] He seemed like a nicer president compared to the ones we have now."
Ni's favorite exhibit was, "The one where it showed the timeline of his life [..] it went on to show where he made plans against Germany and Japan." Ni added, "There were several cars. I'm pretty sure they were his cars. Some of them looked really nice." All in all, Ni said, "It was a fun day off from school. It was worth missing all my classes for."
Smith would like to thank the Eisenhower foundation for the grant and he would like to thank the kids for being on their best behavior.