Senior Nijaree Canady Signs to Play Softball at Stanford University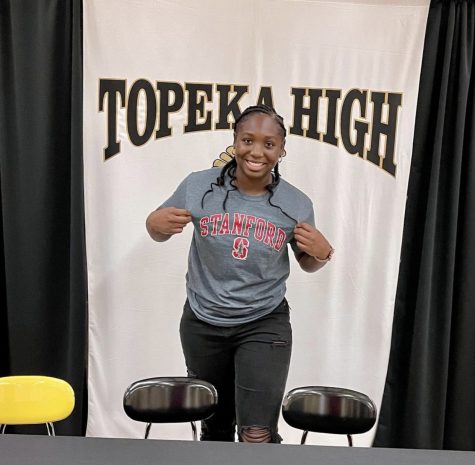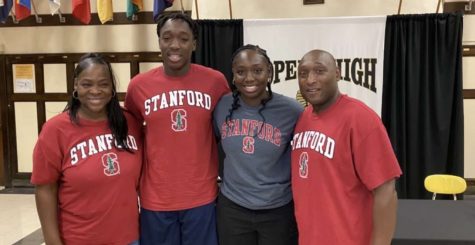 Senior Nijaree Canady was granted a full ride scholarship from Stanford University and signed to play softball there.
"Ever since I was a little girl I knew I wanted to play division 1 softball and now I'm doing it," she said.
Canady was looking at Kansas University, Oklahoma State, Missouri State, Arizona State, and UCLA. Her decision was hard to make, but she says she's "100% confident" in her decision now. Canady traveled to the Stanford campus in June 2020 where she met the coaches, and during that time, they offered her a scholarship but didn't put any pressure on her and told her to take her time.
Canady had to choose between pursuing basketball or softball in college. Once Canady got into high school she felt like she could go further in softball and she knew that she, as a pitcher, put in a lot of work during the season and looked at how much work she was doing with pitching, 5 or 6 days a week, and wasn't practicing basketball as much. Canady says she "naturally gravitated more towards softball."
Canady has played softball since the age of 9; she began playing baseball at 6 though. At first, Canady was a catcher, but then became a pitcher when she was about 10 or 11. Canady says that hardest part of being a pitcher is the amount of pressure and how all eyes are on you, "If someone gets a home run off of you no one is looking at the first baseman, they're going to look at the pitcher because you just hit the home run hitoff of you."
It doesn't happen often. In last year's undefeated Trojan softball season, 16 games were shutouts with no runs posted by their opponents. The Lady Trojans won state with Canady pitching all three state tournament games.
According to the Topeka-Capital Journal, Canady was 21-0 on the pitching mound, striking out 226 batters in 107 innings last season. Her batting average was .478 with 13 home runs and 49 RBI.
Canady was named the Gatorade Softball Player of the Year for the state of Kansas and was nominated as one of the top five Kansas basketball players by Gatorade. She was also named to the All State and All City teams for both softball and basketball. Centennial League basketball player of the year and City softball Player of the Year. Max Preps put her on their first team All American softball team.
On the basketball court, Canady averaged 20 points per game and was honored last year for scoring her 1,000 career points and she led the Trojans to the state tournament, where they took a disappointing second place against Shawnee Mission Northwest.
We all know Canady is an extremely talented pitcher, but her fastest speed or velocity has been 72 which occured in Colorado during a big tournament. She consistently throws 66 or 67 though.
Canady said her proudest accomplishment at Topeka High was winning the state softball championship where our team was undefeated. After winning state, she said she felt "amazing and it felt surreal until I saw the banner in the gym."
Canady loves Topeka High and all the things she has achieved, and she says she will miss the sense of community we have. Canady says it feels like we're all a family here and that "everyone knows each other, in college you're not going to know everyone because it's bigger."
Canady will sign her national letter of intent in November and will have her big signing party in the cafeteria during Spring 2022 softball season so "that's where the food will be at!"