Greg Gleason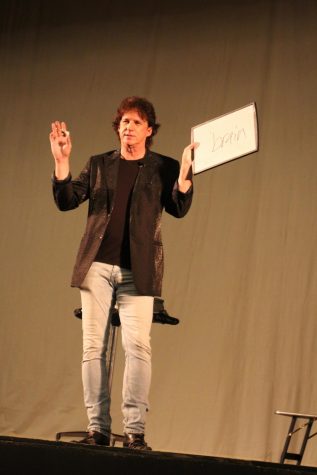 Greg Gleason is a Las Vegas illusionist and mind reader who came to Topeka High for a special performance before his show Oct. 1 at the Topeka Performing Arts Center.
Gleason came to Topeka High School and performed for some of the students, he started with a card trick, then he played some mind tricks and read the minds of some students, but the biggest hit was when he sawed a girl in half. One of his mind reading tricks was very interesting, he gave a few students a book, he asked one student to pick a random page number, then he asked another student what the first letter on her page was, he then guessed her letter then the rest of her word. He went on to guess some of the other students' words, even some quotes from one of the books. Gleason ended the show with sawing a girl in half which was a big hit to everyone.
Gleason started with performing at private parties, corporate parties and working at restaurants. But Gleason was inspired from a young age to pursue magic. He started trying out magic when he was around 13 or 14.
"There was a TV special starring Doug Henning in the 70's that first inspired me," he said. "The first trick I ever learned was cutting a rope in half and making it go back together."
Over the years, Gleason has performed many illusions but he does have a favorite.
"My favorite illusion is where I make a girl float on water fountains or where I fly around the stage," he says.
Gleason has been around the world seven times, and has been to 115 countries. Gleason has his own TV show called Masters Of Illusion, he has been on it for eight years, he has also been on The Tonight Show with Jay Leno. Gleason has performed for many celebrities in his career as well.
"Performing for the Queen of Sweden was pretty cool," he said.
Gleason went to college at Washburn University for finance economics but later changed his mind and decided to start practicing magic.
"Traveling the world and performing was more fun than school," he said.