Spongebob Squarepants the Musical Comes to Trojan Theater!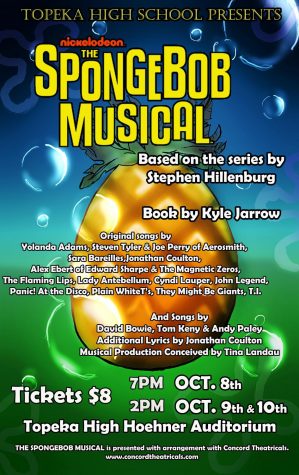 Starting off the theater season is Spongebob Squarepants the Musical. This will also be the return of live shows here at THS. The starting night is October 8 at 7 p.m, and there are also showings on October 9 and October 10 at 2 p.m. They are slowly returning to the theater that was taken away from COVID-19, the only exception is that they have to wear masks onstage. Derek Jensen, who has been helping out in theater since 2016, is the director of the musical. Spongebob the Musical was talked about for a few years, but Jensen didn't execute it until now.
"At first we thought Spongebob wasn't really a T-High type of show," he said. "But after discussing it for a while we decided that we should, especially since the show has a lot of energy for the first normal show since COVID. We also improvised and the set is mostly made out of recycled materials."
Jensen is also excited to experience theater once again in the closest they can get to normal from the pandemic.
"Theater is an extremely comforting environment and can become a home for people that don't always find a home elsewhere, and the messages you're able to send to people can connect people that share this experience," he said.
The cast is made up of all grades. In fact, Spongebob is played by freshman Lilly Krohe and Patrick is played by senior Alexis Brantley. Brantley, who has been in 3 shows before this one, was happy with the part she got.
"When I auditioned I didn't have a particular part or character in mind but I did end up getting a lead which I was glad about," she said.
Brantley, much like Jensen, was excited to get back to theater as well and getting the chance to perform.
"My favorite part about theater is performing," Brantley said. "Rehearsals are hard work and auditions are not my strong suit but being able to get on stage and perform and show people what we have been working on, is fun," she said.
Along with the rather large cast, there are also the people behind the scenes helping the show become the best it can be. A big part of the show is costumes. Senior Tagan Ortega is the costume designer for the show this year. He decided to take this job because he has been involved in costumes before.
"I always participate in as many shows as I can throughout the year and no one else was really running for the costume designer position and I usually involve myself in costumes so I thought I'd do it for this show," he said.
Alongside Ortega in costumes is Jamie Ramos, who has only done one other THS production but has experience in crew at other community theaters like Topeka Civic Theater and Helen Hocker Theater.
"I've always really liked costumes and I thought that this would be a good chance to do it in the show," she said. "I also like doing stuff for the theater department here."
Spongebob the Musical's opening night is on October 8 at 7 p.m.