Teacher creates memorial garden to remember loved ones who died from Covid-19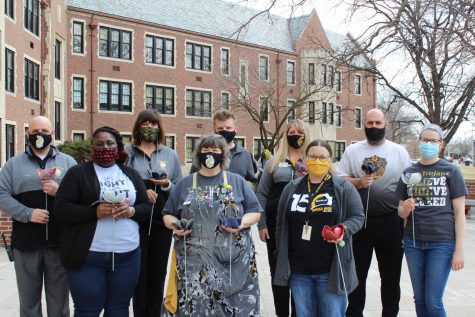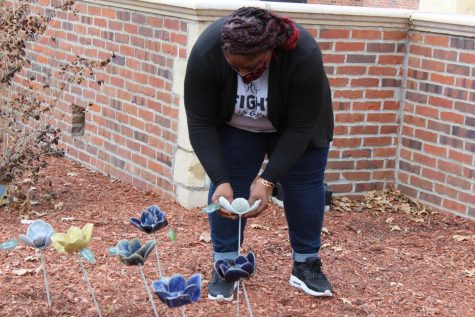 Susan Winkleman, ceramics teacher, is working on a project making clay flowers and putting them outside of the Topeka High school to honor and  remember family members who have died of Covid-19.
"It's just for the Topeka High school family, employees and students. This week I've been reaching out to the seniors to add names to the list."
The project is open to anybody who has lost loved ones or family members from Covid-19.
Winkleman said this idea came from a group that she's in on facebook. There was a guy in London, Paul Cummins, who was working on something similar around the tower of London based on the people who have died during WW ll.
"On facebook there's several clay teacher groups and in one of those somebody was talking about for Memorial Day they were gonna make poppies, which a gentleman did in London. He filled the grass around the Tower of London with smaller ceramic poppy flowers to represent each person who has died in WW ll," said Winkleman.
Winkleman is the only one working on the flowers but she has other people helping with the overall project.
"So far I'm just making the flowers, but the guy that works in our district metal shop made the cookie cutters to cut out the slab pieces to make the flower and he got the stems, And the sign guy for the district made the sign."said Winkleman
She's making these flowers from scratch and says they take up to two or three days to finish them. Winkleman says that the time isn't long at all especially for ceramics.
"They're slabs so you've gotta roll the clay out, let it sit for a little bit and then cut your shapes out. So two to three days and when you're talking with ceramics two or three days isn't long,-" said Winkleman.
Winkleman lost her father-in-law to Covid-19 and says this is important to her because she wants people to know that this is something that's happening. She wants people to know this is an actual thing that is affecting people's lives.
"My father-in-law passed away in November but that's not what motivated me because I was already planning on doing this before that. I also thought it would be a way for people to realize that this is real and this is happening and you maybe knew somebody that was affected by it, it would make it a little more personal instead of something that only happened to other people."
Leave a Comment