92 year old man earns his high school diploma after years of waiting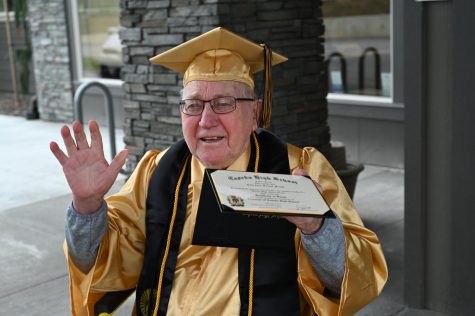 Clarence Frost, 92 year old has been waiting 75 years to finally achieve his life long dream of receiving a high school diploma.
He received his Topeka High diploma, along with his cap and gown that was sent to him in Washington where he currently resides.
His daughter Cheryl Thompson has shared with us his unique life experience and how far he's come.
Frost was born July 9, 1928, and raised in Topeka, Kansas with his four siblings. They were, by his own admission, from the wrong side of the tracks. The family grew up in an old boxcar purchased and placed on a piece of property with some siding and doors added. That structure is still sitting in the same place.
He was raised in an extremely poor and abusive home and eventually was forced to leave and be on his own by the time he was 15. That didn't allow him to finish school. He survived by picking potatoes and delivering ice and eventually went into the Marine Corp. His main position in the Marine Corps was military police and once he was out of the military, he desired to become a police officer. The lack of a high school diploma would not allow him to obtain a position on the police force so he started working as a mechanic in Lawrence, Kansas. He my his wife, Shirley Gifford, and was married and started a family quickly.  With work scarce, they made the decision to move to California and he became a plaster with the union building homes throughout Southern California.
He's talked about things that made a difference in his life, such as his fifth grade teacher Mrs. Welch that realized he did not own shoes without holes; she took him in under her wing and purchased him good shoes for walking in the snow. He knew that taking the good shoes home would initiate a beating so he would hide them under a bush at the end of the day and wear his old ones home and then change again on the way to school. He has never forgotten the teacher that cared enough for him to make sure he had warm dry feet for school.
Frost eventually continued his trade education and became head of heating and air conditioning at a junior college in Southern California. He worked hard his whole life and raised three children but always regretted not being able to say he had a high school diploma. He could have been a statistic for continuing abuse; however, broke the cycle and way, and still is, a caring man with a great sense of humor that worked hard all of his life to provide for his family.
He currently lives in an assisted living facility in Newport, Washington, where they all love him and enjoy his stories and jokes daily.
Personally from Clarence, he wanted to say thank you to Topeka High School for understanding the value of this 92-year-old man that never let his beginning circumstances define his life!