Prime's 'Making the Cut': The Good, the Bad, and the Ugly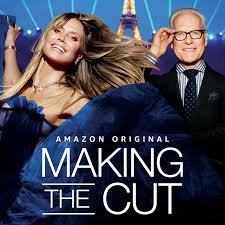 I'll say it now: I didn't enjoy Amazon Prime's Making the Cut as much as I'd hoped. It's the fashion design competition show that Heidi Klum and Tim Gunn left Project Runway for after 16 seasons. Between that and a presumably big budget from Amazon (the grand prize is $1 million and the entire cast takes multiple international flights), I had high hopes. However, the show has major weaknesses in its very foundations that leaves it far less entertaining than similar shows.
Despite obvious similarities, Making the Cut differs from Project Runway and Netflix's Next in Fashion in a few ways. It's main premise centers on discovering the next global fashion brand, with a heavy emphasis on accessible, sellable clothes.
In each challenge, contestants are tasked with making two cohesive looks, one for the runway and one for the everyday consumer. The winning designer for each challenge will have their accessible look reproduced and sold by Amazon. The turnaround time for the looks is fast, so the show provides seamstresses who will work overnight on the sewing, presumably allowing the contestants to focus on creating unique designs.
However, this has its caveats. The designers do not interact with the seamstresses; in fact, we never see them. Instead, contestants pack bags of pattern pieces, fabric, and instructions that are left in the workroom for the seamstresses to decipher. There were several instances where a seamstress could not complete the work given or misunderstood instructions, leaving designers, some of whom hadn't actually sewn in years (or never learned, which I found odd), to stitch their projects together in the last few hours before judging. Several looks became rather underwhelming or shoddy looking, making for less impressive and fun runway shows.
Despite the show's often repeated rule that it's a design competition, not a sewing competition, featuring contestants with good craftsmanship and an understanding of clothing construction would have allowed them to be more innovative and creative, as they would not be limited by small skillsets. Furthermore, the emphasis on accessibility bleeds heavily into the judging, and it often seems the design that will be easiest to reproduce is chosen over the most distinctive or highest quality. Basically, the actual designs are bland. In the first runway show alone, there are two black, one-sleeve cocktail dresses, and several other looks gave me a major sense of déjà vu.
The production of the show, particularly the editing, is also rough. Episodes feel long and slow-paced; Making the Cut definitely lacks the fabric-flying fun of Project Runway. A designer may get a minutes-long backstory segment and then be ignored or eliminated. There are cutaway segments of Heidi Klum and Tim Gunn exploring whatever city the show has flown them to. I actually quite like them– they offer a good, cringy dose of scripted reality TV charm that reminds me why I usually love shows like this.
The editing of the fashions shows is far too quick, though, and often cuts to designers ogling their designs from backstage or the judges whispering critiques, making it hard for the audience to actually focus on the look. The judging segment is odd as well. They don't really define the top, safe, and bottom categories, and designers on the chopping block get the chance to defend their look and change the judges' minds. It's tough to understand their criteria for who gets sent home. Naomi Campbell is a saving grace for the judging panel, I think, refusing to accept excuses and calling out looks she finds boring.
Overall, Making the Cut feels slow and a bit clumsy, like a tortoise trying to walk on laminate floors. Considering that the show's main conceit– accessible, marketable fashion– makes it far less interesting and innovative than other fashion competition shows leaves me with low expectations for future seasons. I will probably still watch them.
Well, as long as Heidi, Tim, and Naomi are there.