I am Sad
Sportsmanship is Lacking in the Halls of Troy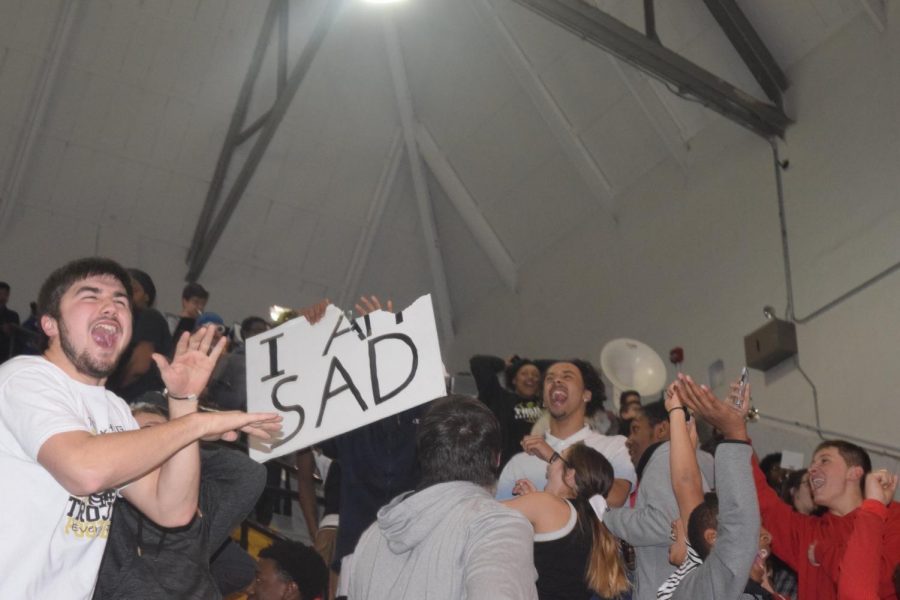 The Topeka High versus Topeka West basketball games on February 6th were highly anticipated and well-attended. The night started off well as the THS women's varsity and JV teams earned victories against the Chargers, but once the men's game started and the score turned to the favor of West, things got ugly.
On the visitor's side, one student held a sign that read "I am happy" on one side, and "I am sad" on the other. During a break in the game, a Topeka High student ran across the gym, stole the sign, and brought it back to the home student section where a group of students ripped it apart as many of their peers cheered them on.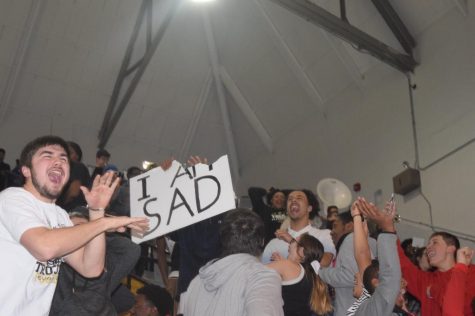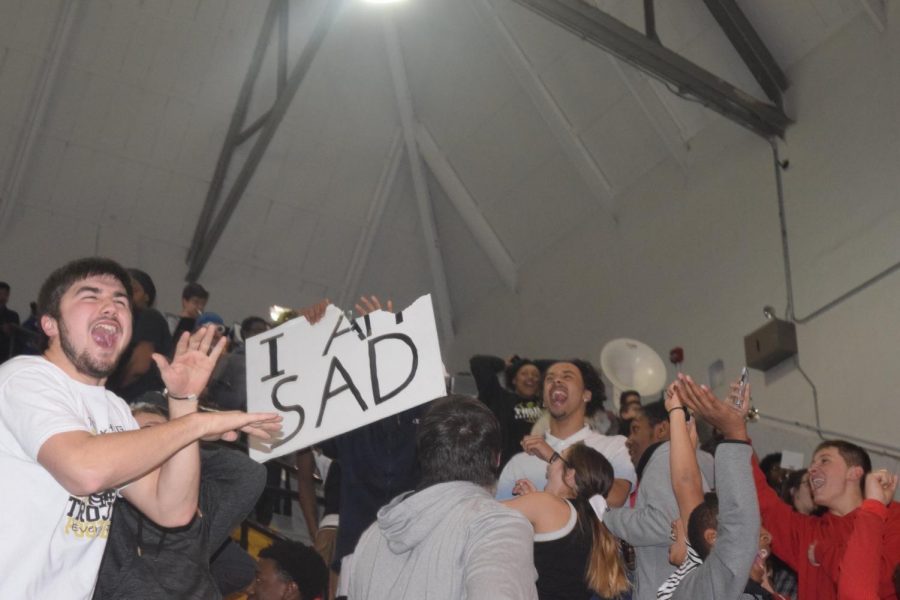 This incident reflects poorly on Topeka High as it is, but the destruction of that particular sign was actually a more significant offense than meets the eye. In November 2017, Topeka native Cameron Werner went viral on the internet for holding up a sign reading "I am sad" at the end of a KU football game where Kansas lost to Oklahoma. The image of Werner was shared on Sports Center's twitter where it earned over 3,000 retweets and 16,000 likes and has been featured in several news articles, including one from USA Today.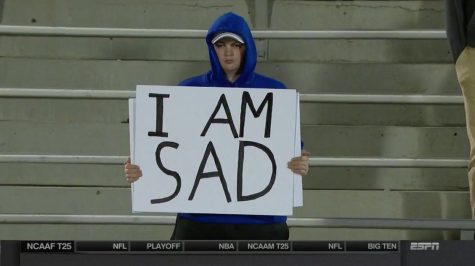 Cameron Werner has a younger brother named Collin Werner, who attends Topeka West. Collin brought the famous sign to the basketball game against Topeka High, the possibility of it being stolen and destroyed likely never having crossed his mind.
"The sign wasn't just about me, a big part of it was that it was my brother's sign that he got put on SportsCenter became famous for. The sign has made appearances all over the place, starting at the KU vs. Oklahoma football game. But it also brought my brother and I closer together and help grow our relationship as brothers," said Collin.
The backlash from this fiasco has been intense as the two schools involved bash one another on social media. While individuals from both schools make divisive statements about the character and skill of the other and fight over the imaginary title "best school in the nation," neither side is making progress in a positive direction.
In response to the social media conflict, Collin said, "I am very upset with the select students from who filmed, argued it, made fun of everything about it, said 'oh it's just a sign' or 'stop trippin about a sign' because I feel I have the right to be upset. But I personally do not want beef to keep going on between Topeka High and Topeka West on Snapchat and Twitter."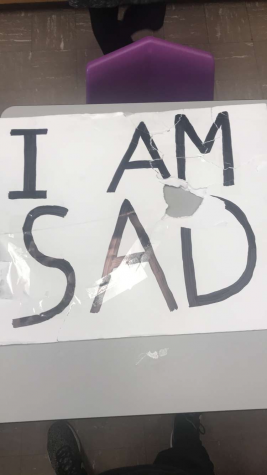 The actions of a few do not reflect the character of the entire school, and there are many trojans, including myself, who were very unhappy with the classless display that occurred at the game. However, lack of sportsmanship is a widespread issue not only throughout the halls of Troy, but at many other schools in the area. Losing with dignity and class is important, and doing anything else damages the school's reputation. Student sections can create a mob mentality that can make it easier for things like this to happen, but that doesn't mean it's impossible to cheer without being disrespectful.
Senior Rachel Stewart has been vocal on social media about a variety of issues in school spirit, particularly regarding respect.
"I believe that we can joke and have competition but we should still be able to come together and represent the love and unity we claim," said Stewart. "After the 40th anniversary of the Topeka High and Topeka West choirs singing together I thought we might have enough unity between the schools to show each other respect and kindness."
Collin responded with a similar sentiment, saying, "I think that lack of sportsmanship goes on all around the league and other schools around the country. I mean, this game is a heated rivalry game anyways and having it be the only time we play against each other this season. I get that people including myself want to do all the chants and stuff back and forth at each other, it is fun for everyone. But, there becomes a point when it is taken too far, and it was."
T-High is a school of many proudly-held traditions, and I hope that those traditions can include treating our opponents with respect and valuing sportsmanship.