State Qualifiers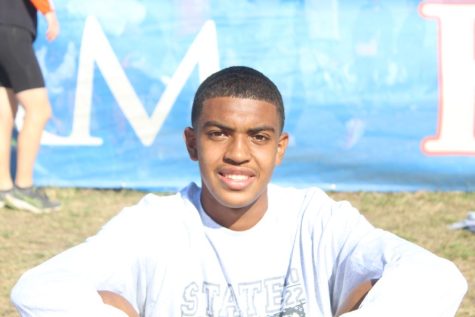 Micheal (MC) Christopher, senior, has run cross country for four years, out of those 4 years he has been to state for 3 years. Christopher used to run track in middle school and said that he was "pretty decent" so he joined cross country because he wanted to be in good condition for basketball. Once he met the seniors he decided to stay.
Christopher said what helped him go to state is "I'm one of the hardest working people on the team because in the morning I would run 4-6 miles and then end up running 3-4 miles at practice so it gave me 60 miles a week. Really, it did help me and push me to make state." After practice, then he would go to the gym and lift for an hour.
Despite all, of his preparation, he would always feel nervous before a race but this year not so much. He completed the course in 17:51 and his best time was 17:10.
One way that MC keeps a positive mindset is just knowing that this is something he wants to continue in college and if he ever is in a race and starts thinking negatively he just thinks to himself "I'm doing this for a reason. I need to do this. I need to keep going."
Cross country isn't a sport that's often talked about.
"It's dumb we get no support but from the team," He said "I want to say that cross country is not a team it's more of a family."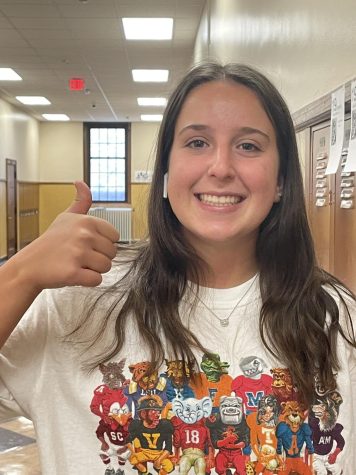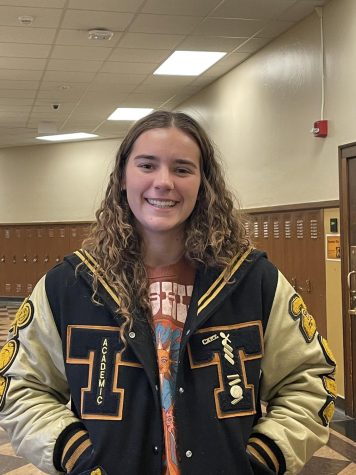 Haley Carpenter, senior, felt excited when she made state. On the day of their regionals, it was really rainy and they didn't get to play until 1 P.M. but once she and her doubles partner Adisyn Caryl, senior, was able to play it was very stress relieving, said Carpenter.
"Our goal was to do better than last year before and we did that so I think we did pretty well at state." At state, they defeated Shawnee Mission South but lost to Blue Valley North and Blue Valley Northwest.
Caryl has had four state appearances in her high school career, including three times playing doubles with Carpenter. Last year, they placed fourth at state. They've been playing together since Sophomore year.
One thing that helps them be a good tennis player is their athleticism. "Adisyn and I play other sports. Tennis isn't our first sport, so it kind of makes it easier to move around the court." In addition to tennis, Carpenter plays soccer and Caryl plays basketball and softball.
When asked how she feels before a game, Carpenter said: "we usually start our tournaments playing bad teams cause we have higher seeds and then in the end we have a better team so usually by the time we're playing good teams, I'm usually tired and I'm like omg I feel like I'm going to do bad and I get kind of nervous sometimes."
Caryl said that she also feels nervous, but tennis is fun, and usually, after I get the first serve in then everything goes fine."
Carpenter said that she normally calms her nerves just by making jokes with Adisyn, and she keeps a positive mindset by trying to remember that "it's not that serious at the end of the day. I'm going to go to college and live my life and sports will be something I want to look back at as fun and not OMG I was so nervous about this and this."
Since tennis isn't talked about a lot at school, Carpenter and Caryl get a lot of support from their parents who always come to their meets.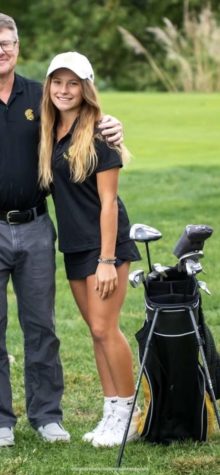 Avery Zimmerman, junior, said she was really happy that she made state for a second year because she worked hard all season and it was a good way to end it. Her qualifying score was 92. During the state tournament in Salina, Zimmerman shot an 85 on the first day, which qualified her to continue but had a disappointing round of 98 on the second day.
Zimmerman's been playing golf since she was in 7th grade.  She trains over the summer with her dad (coach Zimmerman) every other weekend and she goes and hits balls all the time. She chooses to play golf for fun since she's been doing it for a while and enjoys it. She plays soccer as well.
Zimmerman feels pretty nervous before a tournament but she just listens to music and takes deep breaths. How she keeps a positive mindset before a tournament by forgetting about bad holes and looking forward to the next hole "because you can't get into your own head or else you'll get a bad round."
One reason she thinks golfs isn't too well known at Topeka High is that people haven't tried it or know about it. She tried to get more people to go out this year which she said was awesome because having a lot more teammates is always really fun.
Something she wishes people knew about golf is that  "despite how boring it is to watch, it's super fun to play. I had a really fun time this season and I'll miss the seniors."