Former Basketball Star shares his experiences with students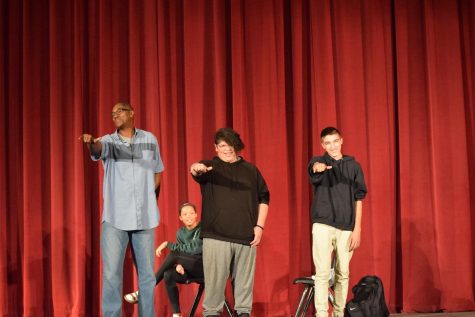 Last Wednesday, a former professional basketball star came to Topeka High to share experiences of bad decisions, stories about his time in the NBA and how his  actions got him to where he is today.
Adrian Branch has an impressive resume. He is the fifth leading scorer in Maryland University basketball bistory and led them to the 1984 Atlantic Coast Conference (ACC), The Chicago Bulls selected him with the 45th pick of the 1985 NBA draft. He was part of the 1987 Los Angels Lakers NBA Championship team, and was honored as an "ACC Legend" at the 2004 Conference Tournament. In 2007 he joined ESPN as a basketball analyst, and he has been a motivational speaker for more than 20 years.
Branch has played against some of the best basketball players of all-time and says it was a privilege to play alongside them.
"I knew during the time that I was in a special place," Branch said. "I knew that if I was going to be there one or ten years I wanted to soak it up as much as I could playing with those championship Lakers teams and playing against the great Dominique Wilkins, Michael Jordan, and Dr. J. I knew they were good and I knew that was a moment in time."
Branch's presentation focused on making good decisions. He spoke with students about mistakes he made; how he was arrested when he drove a friend to a drug deal or when he drank alcohol with the wrong person on the Lakers' team bus. He did it in an interactive way, pulling students on stage and reenacting some of his bad choices but having some fun in the process.
"If it's done right with the right attitude and humility, this will never go out of style," he said. "Everyone will always want to be encouraged and most of the talk was just acknowledging people. 'Hey come on up! How tall are you? How short are you?' You know styling and profiling! So most of it we were talking a little bit, but a lot of it was encouraging, you know, letting kids laugh letting them have fun."
Branch that even if you make bad decisions, you have to let them go and learn from the mistakes.
"I threw back a lot of God's gifts. I was a highly gifted and talented athlete, but I was a knucklehead, and so I was a ringleader and instead of a team leader. And I have to believe [myself] in at 53 and not beat myself up on what was lost and look at what I'm doing now and that it's positive and that it's a redemptive story."