Trojan Profile: Nysir Scott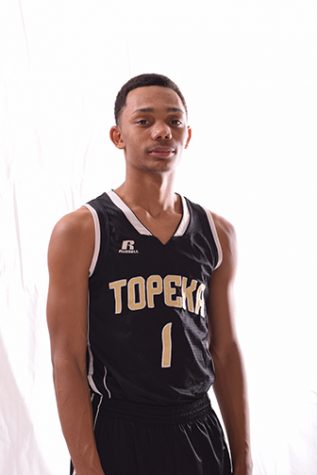 For someone who wasn't in the program his freshman and sophomore years, Nysir Scott, senior, is having an incredible season in high school ball.
Scott started playing basketball in 8th grade at Robinson middle school, since then he hasn't looked back. Scott is third in scoring in the league and averages 18 points per game. He has had highlight games throughout the season: dropping 31 points against Lawrence High School, and hitting  seven three-pointers against Manhattan.
The coaching staff appreciates the talent of the senior.
"He gives us a guard that's versatile," said head coach Patrick Denny.
"He gives us, probably our best shooter out on the perimeter and I think the best thing he gives us is leadership. He leads by example, he wants do well, he wants to win."
" He's probably one of the most humble kids I've ever coached,"  praised Denny.
Denny stated,"Defensively he's become a better presence on the floor. All phases fundamentally, he's gotten better."
Scott influences his teammates as well." He's really goofy and on the court he brings that energy that we need and he gets us into our plays and he's just a good leader and a friend." said  teammate, Reece White, junior.
Scott inherited the love of the game from his uncle, who always brought him to the gym. "My uncle wasn't that good though,"said Scott
When asked: "What does basketball mean to you?" Scott said "It means everything,"
"I don't think i could play anywhere else. I can't see myself wearing a different high school jersey."
Scott is an example of hard work paying off,"I didn't give up. You shouldn't give up." said Scott.
Scott has already received a couple of offers from Fort Scott and Cloud County and is looking forward to the future he said, " I just got to keep working hard. I have to work more and get in the weight room and i'll be ready."