Topeka High Student Paints Desert Mural For Five Months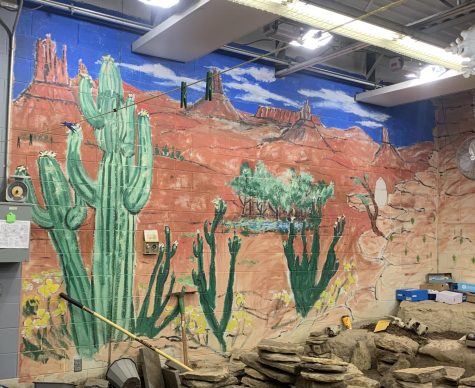 From February to July, Yaeli Lopez-Arreola (12) restored and added to a faded mural in Williams Magnet elementary school's desert lab with her own acrylic paint.Tall peaks of contoured canyons scale the wall. Prickly cacti with blooming flowers stand tall. Hills and yellow flowers roll over the mural. Vibrant colors pop and sizzle from the heat of a desert sun.
Lopez-Arreola has only done painting as a hobby and has only taken one art course.
A desert lab is a section of the classroom filled with sand, rocks, and animals for kids to experience what a desert is like. Before Lopez-Arreola restored the mural, it was fading, peeling, and didn't have a lot of details.
Lopez-Arreola said she was visiting Williams for an AVID class, but "then I saw the painting and since I knew the teacher there from my past elementary school I asked him and he let me do it."
After Timothy Brinkmen, Lopez-Arreola's previous teacher, said she could work on the mural she transformed the classroom.
At the beginning of the project she had help from JD Pulgarin Castillo and at the end she had help from her sister, Leslie Lopez-Arreola, but for the majority of the time, Yaeli Lopez-Arreola did everything herself.
Yaeli Lopez-Arreola said her biggest struggle was shadowing. She explains that "you really need a light source and I guess I struggled with the contrast and how to add it and what type of colored tones I need to use."
Lopez-Arreola said she's hoping to also do a sunset mural for Williams Magnet elementary school in the future.