Water: How COVID Made a Small Problem Bigger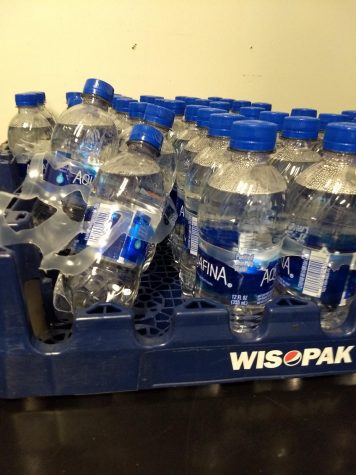 The Covid-19 pandemic has brought many financial decisions to our district, including some unexpected ones like the cost of getting a drink of water.
Because of Covid-19, water fountains had to be shut down, as transmitting the disease would be very easy through the high touch usage of the button. The district was forced to go for a "no-touch" way of giving water, and had to switch to providing water bottles.
When asked about the cost of water for Topeka Public Schools, Larry Robbins, Deputy Superintendent of Operations, said, "up to this point, we have about $71,000 on bottled water. We've spent another about $25,000 on drinking water that comes in gallon containers."
However, due to the volume of water needed to supply each student individually, Robbins made it clear that Aquafina, the water bottle supplier for the district, could not supply for very much longer.
"What we are going to be doing in the long run is supplying everyone with the empty bottles that could be filled so that every student will have their own personal bottle… that is something we are spending about $11,000 on," said Robbins.
Another solution was installing water fillers around the school. However, to install those across the entire district would take months and would be another cost of Covid-19. It is still planned, however, the district needed a temporary solution while we wait for installation.
With lots of water bottles comes lots of plastic usage. With no enforcement on recycling, throwing plastic into trash is bound to increase.
When asked about his thoughts on the usage of so much plastic, Kerry Zimmerman, sponsor of the Going Green Club, said, "I am not sure there is any other way… this probably leads to the fewest class interruptions."
The water bottles were in heavy use while school was in session during October. Since then the district has moved to remote learning, the water bottles are no longer in demand.