The Cost of Covid: Mental Health
In a survey, 277 students share what's worrying them. But how, when physical distance is more important than ever, do we support each other?
The Covid-19 pandemic has caused many new problems and made existing ones worse; it can all add up to worse mental health. From unstable home lives to canceled events to struggling with assignments, it can be hard for students to find support when distance is vital.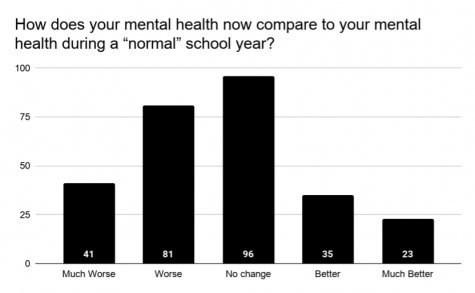 Part of what makes these issues hard to address and solve is that students experience them very differently, or not at all. The new models of school, for instance, require some dramatic changes in routine and class structure, which can be stressful for both students and teachers. Workload has been a primary aspect of this, being the number one factor students said affected their mental health. In a survey of 277 students, Trojans described feeling overwhelmed by assignments, or not having enough time to grasp concepts and instructions.
One student said, "Teachers need to understand that we have other work to do and stop piling so much on us at one time, as well as students who are online having a harder time doing assignments due to inability to have a school setting with school materials."
"Not understanding concepts has been a huge issue with me," wrote another. "In most of my classes, I'm not understanding what the teacher wants me to do."
Other students said they benefit from having half days and flexible schedules.


"I think remote and hybrid lets you do other activities throughout the day that normally you'd have no time for, which I think creates better mental health," one wrote.
Some said they struggled to work from home, often due to distractions or worries about internet crashes.
"I can't seem to focus on work at home," said one student, "and can't keep myself fully focused on assignments since my environment at home is chaotic."
Students may also be on different schedules from their friends, contributing to feelings of isolation.
A student wrote, "I have no friends in group A, I think it's like that for a lot of students. That can make a person feel lonely at school."
Having fewer students in classrooms and not getting to interact with teachers were also mentioned frequently. Many have taken notice of their teachers' struggles as well.
"My overall opinion on both models is that it's not very considerate for the teachers and the work that they now have to do to make sure every kid is learning the material that they need to succeed," a student wrote.
Structures put in place to support students have also had to change. Personal and social counselor Greg Fallon said distance makes his job much harder.
"I don't have access to students so it's harder to know what's going on with people, and it's harder to help when you do know," he said. "In counseling it's not just talking with someone, it's being with them, reading their body language and face. Masks make it hard. Those cues you don't think about are gone and language becomes more important."
Being at school less also means a loss of community and support networks.


"[School] is where many students meet up with friends and create social and emotional support independent of their families," Fallon said. "They explore interests and engage in activities that develop skills and self-confidence. They learn to be independent and school provides important rituals that mark developmental milestones for students, prom and graduation for examples. These relationships with staff and peers, and participation in school activities, connect us and give us a sense of community."
Much of what makes a school a community has been canceled for the sake of safety, but that doesn't mean isolation and unhappiness are inevitable. According to Fallon, the first step to combating these problems is acknowledging them.
"Recognize there is an increase in stress and a loss of support. Pay attention to how that contributes to negative emotions and conflict. Plan a way to manage those times. Develop new ways to cope."
From there, communication is vital. Asking for help on assignments or where to find better WiFi or how to work a PearDeck can save people a lot of stress and make them feel less alone.
Plan safe activities, like Zoom study sessions with friends, find things to look forward to, and help others when you can.
Physical distance will probably still be necessary in the future, but emotional distance doesn't have to be. And, for the sake of mental health, it shouldn't be.