Trojan Profile: Laryn Murray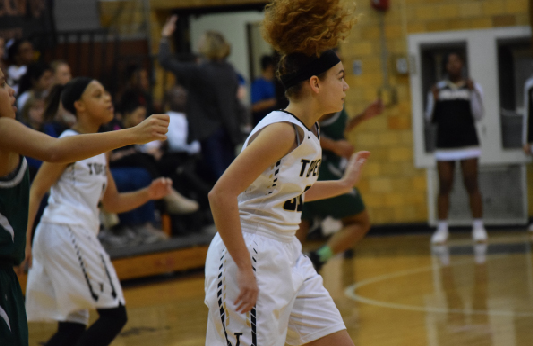 Laryn Murray, Freshman, has been playing basketball for the majority of her life, and looking at her current basketball resume, it seems like that time spent toward shooting hoops has paid off.
Murray is the only freshman basketball player on the varsity team, which is no small feat. She is a great role player for the team, providing a quick minute or two break for the starting guards whenever they need it.
"She looks comfortable out there, she doesn't look like a freshman. She compliments us well, and gives us a few minutes here and there, which makes us a deeper and better team," varsity coach Hannah Alexander said.  "She kind of a little spark for the team. She just goes out there and hustles. And she's just very coachable, she fixes things that we need her to fix."
Murray is often seen in the halls giggling and smiling, but her mindset completely changes when it's time to play basketball.
"It always been kind of a thing I've done, and one of those things I can kind of get away from everything." Murray said.
"She's goofy, but she definitely does her work out there. She hustles after loose balls. She pushes the top 5 group in practice, offensively and defensively. So she brings us to the next level." Coach Alexander Said.
As a freshman, she understandably is a little cautious playing with the older, more experienced girls, but currently she is starting to become more confident.
"She is coming out of her shell and she is starting to learn to do more. She's a big scorer for JV, and she's starting to carry that over to the varsity game." Mya McFadden, varsity girls' manager, said.
As a freshman playing for the varsity team, she currently isn't getting much minutes, but in the upcoming years that will almost certainly change.
"I think she's going to be an outstanding basketball player for us, We're looking at her to be our point guard next year." Coach Alexander said. "It's nice to know we're going to have a her for the next three years after this. So we're just trying to build her confidence up, and hope she'll be one of our leaders for the future."
Some of her best skills right now are that she is a great ball handler, she also makes very intelligent plays, and most notably she has great hustle.
"She's a leader on the court, if a player needs a break, then she kind of takes on the role of everyone, she'll be a point guard, she can shoot, she'll go in the post, so she does a little bit of everything." McFadden explained. "She's a freshman so they're definitely expecting big thing from her in the upcoming years"