Seniors deciding colleges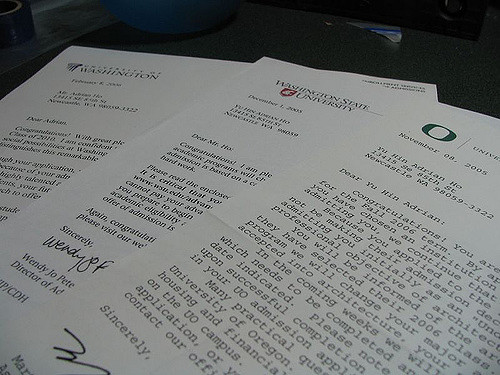 Hang on for a minute...we're trying to find some more stories you might like.
As second semester begins, many seniors are finalizing their plans for the future. For many, post high school education is in their plan.
Students have to try and find a college that meets the criteria that works best for them. Some decide colleges based on the best education, for others the cost is the most important factor. For others still, location holds the most significance.
Rebecca Woods, senior, has recently decided to attend DePaul University in Chicago, Illinois when she received the presidential scholarship. Her goal when it came to finding colleges was finding a place where she could experience new things by getting out of state.
"I could have could a really big cultural and artistic place to live in," Woods said. "Obviously Chicago is a really awesome choice for that."
Benjy Zhang, senior, has applied to about 18 different schools and is still undecided on where he wants to go to school. When it came to deciding colleges, he looked specifically at the programs the colleges offer and making sure he could go to a large city with many different opportunities.
"I'm probably gonna go out of state near a big city. I think there's more opportunity over there, not that Kansas is a bad place to live," Zhang said. "I feel like a place like New York or Boston or Chicago would give me more opportunities to do what I want."
For other students, athletics play a large part in where they want to go. Emily Goodrow, senior, hoped for an offer to play college soccer before she decided what college she wanted to attend.
"Originally I didn't know if I was going to play soccer. I wasn't getting offers to higher ranked colleges and I was really hesitant because I didn't want to go to a junior college," Goodrow said. "I wanted to go to more of a distinguished college. Once I finally got an offer Emporia State University it was nice because Emporia was a higher level."
While every person has their own list of priorities and deciding factors, there is no such thing as a perfect process, or an option that is best for everyone. Every kind of educational institution has its own merits and drawbacks, and your first choice may not always be the best in the end.