Lunch Staff Retirees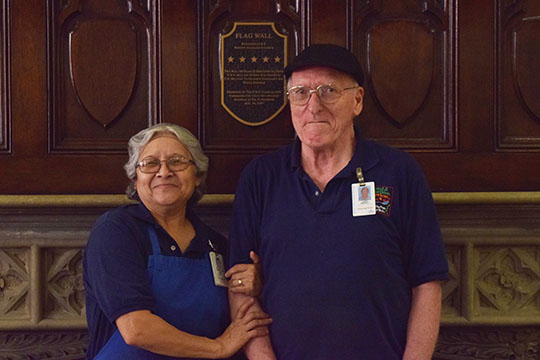 Everybody's favorite time of the day will no longer be the same because some long time cafeteria staff plan on retiring at the end of the year.
Larry Beuchat, lunch server, has been at the school for 15 years. He is sad to leave but enjoyed the time he was at the school with his co workers.
"This is my favorite job I've ever had." Beuchat said. "Pam is my favorite boss of all time. She's been a great inspiration to me and i'm glad to have her in my life."
Among everything Beuchat will miss about Topeka High, he will miss most the atmosphere and surprises that the school brings.
"I'll miss coming to work every day and not knowing what kind of surprises will be in store for me today." Beuchat said. "Working here has been one heck of an experience."
Beuchat plans on becoming self employed and getting back into the music industry after retiring. He has taught classes teaching people keyboard and accordion, and now wants to start a one-man-band.
"I'm going back into it to spice things up. It's gonna be challenging but surprising." Beuchat said. "I like to go out with a bang."
Isabel Chase, also retiring, has been working at Topeka High for 19 years.
"After retirement I plan on taking care of my grandkids. I really enjoyed working here and seeing the kids as they come in and watching them grow up." Chase said