Women's soccer wins Regionals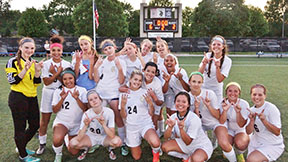 The women's varsity soccer team reached a new milestone by winning the Regional Competition for the first time in history.
"It was a good feeling knowing that we won working as a team. It was just a good bonding opportunity," Morgan Caranza, sophomore, said. "[The game] was very difficult but we fought through and when we won it felt like we could beat any team."
Since this was the first time the women have gotten this far in the season, the success came as a surprise for some members.
"I honestly didn't [expect to win] because from what I heard," Caranza said. "We're a good team but [past teams] couldn't always get the ball connected but this year after we played our first game I could tell we were going to do something great."
Lauren Dietrick, sophomore, attributes the success of the team to the familial sense which has grown throughout the season.
"I think it was really all our friendships. We all group together. I don't think anyone has anything against each other and we work like we're a family, like we're a big group of sisters," Dietrick said. "The soccer season was great. This was my favorite year that I played with them and I think the future will have great things."
The varsity team will now go on to face Washburn Rural at the next level of competition.
"I feel it's going to be a really tough game. We've already played them once this season and we were tied with them but then we let them come back and bat us seven to two," Dietrick said. "So we can't let that happen. Have to just not give up and keep it going 100 percent the whole game."