Stop testing on the world's animals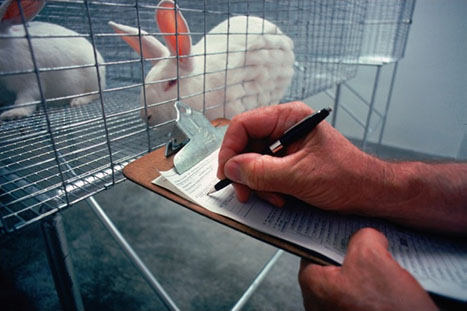 Research on living animals has been practiced since at least 500 BC. About 26 million animals are used every year in the United States for scientific and commercial testing.
Animals are used to develop new medical treatments, determine the toxicity of certain medications, and to check the safety of products that are destined for human use. Animals suffer from being tested on everyday, and live in terrible conditions at some institutions. Most animals used for testing include mice, fish, rats, rabbits, guinea pigs, hamsters, farm animals, birds, cats, dogs, mini-pigs, and in certain places, primates.
Using animals for tests because they do not have the ability to give their consent is no more justifiable than using humans with mental disabilities to experiment because they cannot give their consent, either. It goes either way. Animals can't talk or reason, but like humans, they can suffer.
Some of the primates at The New Iberia Research Center (NIRC) in Louisiana were dealing with so much psychological stress that they resulted to hurting themselves. Some video footage shows infant chimps screaming as they are forcibly removed from their mothers, infant animals fully awake during painful experiments, and chimpanzees being intimidated and shot with a dart gun.
Most of these animals are captured from the wild, and taken from their mothers while they're just babies. Some of them stay in the institutions and lab rooms for their whole life, suffering a new kind of pain everyday.