Stage combat director workshops with thespians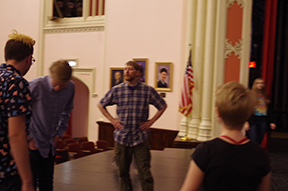 The production of Robin Hood has brought in a stage combat director to direct specially stage onstage fighting within the play. Benaiah Anderson, the combat director, also held a workshop for all Topeka High thespians, teaching various general techniques.
"Working with the combat director has been amazing. He teaches us in a way that is easy and super fun. He is so funny and works great with us." Jordan Large, sophomore, said.
Large, who plays Much in the upcoming production, has worked with Anderson throughout the rehearsal process, and has found working on the fighting has been an enjoyable process.
"The actual combat itself is a lot of work and great exercise, also a great learning experience. I look forward everyday to learning more stunts and I never have to worry about them being unsafe." Large said.
Mikoda Lancaster, a senior who is not involved with Robin Hood, attended the special workshop setup for members of the thespian society at Topeka High.
"I think the stage combat was a lot of fun. I learned a lot of new things that I think will be really helpful in the future," Lancaster said. "I've never been in a show with actual stage combat but fortunately I had the experience to work with the guy who's helping with stage combat in Robin Hood, even though I'm not in the show. Even though I only got to go one day, I still learned a lot. I really enjoyed it."
Anderson's work with Topeka High actors can be seen in performance April 21-23 in Robin Hood.