Cole's Corner: A Look into the Draft – Wide Receivers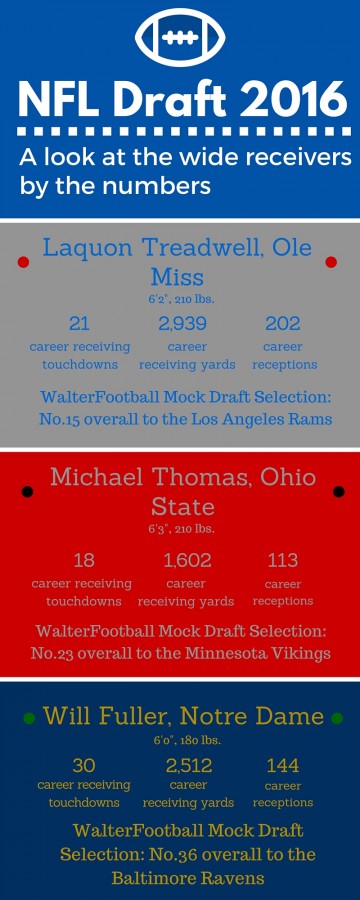 With draft season coming into full focus, this week's look into the draft will cover three of the best receivers in a class with a fair amount skill. Although there isn't one standout talent, it's evident that the class of receivers is rather deep.
Laquon Treadwell
If any receiver is considered a premium, number one receiver – it's Treadwell. He's physically imposing, compared to Chicago's Alshon Jeffery by some draft analyst. His size allows him to take on defenders for contested balls and paving the way for ball carriers. Treadwell also made a comeback in 2015. After breaking his leg in a game against Auburn in 2014, Treadwell led the Southeastern Conference in receiving yards and receiving touchdowns the following year. It'll be interesting to see which direction Treadwell's stock will fluctuate.
Pros:
Tremendous size. At 6'3", 210 lbs. Treadwell can get separation from defenders to grab 50-50 balls, as well as block for ball carriers.

The physicality of Treadwell extends beyond jump balls and into his game as a whole. As stated, he blocks for ball carriers and he does it willingly. He can also get off the line quickly against pressing defensive backs.

Also catches the ball well. With his hands and out away from his body, he catches it in stride. Not afraid to contort body for inaccurate passes either.

His ability to catch the 50-50 ball is the best in the class. Can jump up into a horde of defenders and come down with the ball often.
Cons:
Breakaway speed is Treadwell's biggest concern. He doesn't separate from defensive backs with blazing speed. It'll be interesting to see what his 40 times reflect.

The broken leg in 2014 may raise some injury concern, but it ultimately looks to be solid. Hard to believe 2015 was a fluke, but it will be tested in his rookie season.
Michael Thomas
Thomas is one of the many fast rising receivers in the class. He doesn't play with a lot of flash, but he gets his job done and gets it done well. A very crafty receiver, Thomas is able to do a lot of things with the ball in his hands and make some defenders look silly. Thomas hasn't hit his full potential, but the ceiling for him is enormous.
Pros:
He's one of the best route running receivers in the class. Showed the ability to shake defenders through sharp cuts on short, intermediate, and deep routes at Ohio State.

His blend of size and speed gives him the potential to be a WR1 for any team in the league. At 6'3", 210 lbs., he moves swiftly in pads.

Does a good job of catching the ball with his hands, also adjusts well to mediocre passes.
Cons:
Shows he's willing to block, but needs to become better at it. Doesn't always follow through.

While his size/speed is great, he could stand to add some bulk to his frame.

Needs to add a sense of physicality to his play to truly become an all-around receiver.
Will Fuller
Fuller's potential and skill set shouldn't be judged by his college production, but it's one of the most noticeable things about his college career. He had 2,000+ receiving yards, as well as 140+ receptions while playing for Notre Dame. The average fan may look at Fuller's college numbers and be amazed, but Fuller's skill set shows much more to appreciate.
Pros:
Speed is Fuller's best aspect. His initial burst is quick, allowing him to explode off the line and scorch opposing defensive backs when getting to the second level.

Fuller also does a good job of controlling his body to adjust to pass anywhere in his catch radius.

As shown by his stats, Fuller is a playmaker. He has a knack for finding the endzone and getting the ball in his hands.
Cons:
Fuller doesn't do a good job of catching the ball. He catches passes up against his body and drops result.

His leanness could be a concern to some.

Fuller is rather one-dimensional in that his speed is the one tool he uses. Doesn't necessarily have premium size or strength at the receiver position.
Final Verdict
This is an interesting class of receivers. These three talents are truly the tip of the iceberg. Treadwell, Thomas, and Fuller will all find homes in the NFL, the biggest question is where, as each has the potential to alter their draft stock. Just as well, names like Braxton Miller, Tyler Boyd, and Josh Doctson have the potential to slip into first round consideration. Ultimately, this will be a fun class of receivers to watch, regardless of where they end up playing.