Trojan Profile: Bryce Cooper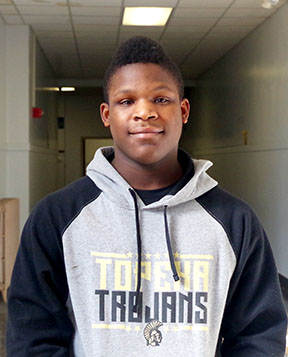 Bryce Cooper, junior, has faced many challenges during his two year wrestling career, this year being no different.
"[the biggest challenge about wrestling is]probably the mental aspect," Cooper said. "your body is tired but you have to tell yourself to keep wrestling."
Cooper is involved in multiple athletic activities outside of wrestling, some of which include football, and formerly gymnastics. Although each sport is very different, for Cooper, they're also similar in some ways.
"I feel like wrestling and football go hand in hand," Cooper said. "tackling is just like shooting a double leg and gymnastics just helps with everything, it teaches full body awareness."
Like every athlete, Cooper uses daily practices as an opportunity to improve his technique and better himself as both a wrestler and an athlete.
"[practice] pushes me to be better, and takes you to the next level," Cooper said.
A typical wrestling practice for Cooper includes numerous activities designed to improve wrestlers both mentally and physically.
"[during a typical practice we start by] running for a good ten minutes,[then we] get a partner and drill," Cooper said "On Monday's we have two match Monday, so you wrestle two matches, and then live goes, and then conditioning."
Although Cooper is a dedicated athlete he's also a dedicated student as well, expressing the importance of optimizing school time to get homework done.
"I try to get [school work] done mostly in class and save the rest for Trojan time," Cooper said.
Wrestling typically seen as more of a solo sport to people on the outside, fail to understand the strong team like atmosphere and support system that is available to the wrestlers, whether it be from a coach, or a fellow teammate.
"Singer always has words of advice," Cooper said. "Everyone is pushing [each other] to get better, If you're struggling with something, people will come and help you."
Although Cooper enjoys wrestling he is undecided as to whether he will attempt to pursue it, or any sport during college.
"I don't know, I'm only 5'5 so that doesn't really open a lot of options." Cooper said.