Cheerleaders Going to the Sugar Bowl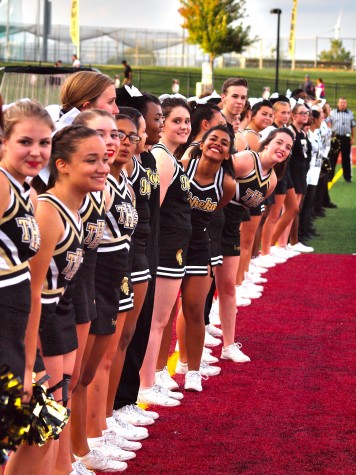 The cheer squad was given the opportunity to perform at the 2015 Sugar Bowl, and they took it. Out of the squad, 14 girls are going to the event, which is in New Orleans. Nachelle Culpepper, junior, says they have been doing several things to prepare for the trip.
"They sent us like a little recording, we've been practicing that and trying to fundraise," Culpepper said. "We had a bake sale and a garage at school in the gym."
Along with the bake and garage sales, the cheerleaders held a carwash to raise money. Because school this time of year can be busy and stressful, Culpepper says it is difficult to balance academics with the extra cheer practices.
"[It's hard] especially with finals coming up, but sometimes you have to sacrifice," Culpepper said.
Katie Knouf, freshman, is also going on the trip. According to her, the squad gets to do fun things aside from practicing and performing in New Orleans.
"We're gonna get there and we'll have a couple of days to practice and then we perform on game day, and when we have free time we're just gonna go shop around and stuff," Knouf said.
Whether it be monetary issues or not having enough time, not everyone on the cheer squad is going to new Orleans. Because of this, the ones who are going have separate practices to learn the dance they need to know for the Sugar Bowl halftime show.
"[The coaches] kind of made it an option, and a lot of people wanted to do it, but it's a lot," Culpepper said.
For some, this will be their first time traveling to New Orleans. Having the chance to perform at the Sugar Bowl is also something that does not happen very often. Knouf says she is excited to go.
"It's a once in a lifetime opportunity," Knouf said.