School Spirit reaches new heights
Being a student attending a Topeka High football game used to mean standing on bleachers through two halves of football and seeing a good game. Both halves could see excitement on the field, but off the field the student section was something dismal. It was a few rows of bleachers filled with a decent amount of the student body. An occasional cheer could be heard throughout maybe a half of the game.  
This year, being in the student section means so much more. It means you are a part of the game. It means that the attire, the chants, and the gimmicks all do one of the most important jobs of a sports fan- add fuel to the team's fire.The student section's newfound excitement and Trojan spirit only enhances the environment of a high school football game.
Excitement- From the opening kickoff to the final snap, the Trojan student section pushes their energy level through the roof. The chants and the noise brought on by the student section make the bleachers electric, which in turn engulfs students in the madness of Friday night lights. Just as well, the energy and intensity the student section cheers with does a lot more for a player than one might think. The noise and chants brought on by the student section can do a lot for a player's mental state and can put him in the zone at anytime throughout four quarters of play.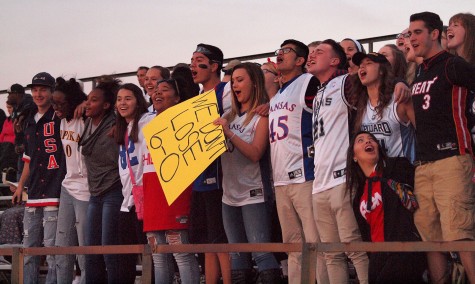 School Spirit- While the electricity brought on by the student section emcompasses the real fan experience of a high school football game, it also shows the revival of something rarely seen at Topeka High in years past- school spirit. Full participation in theme nights, not to mention an overcrowded student section, epitomize school spirit. Themes such as Beach/Hawaiian Night, White Out, Pink Out, and Jersey Night have all seen full participation from students. It's a beautiful thing to see students wanting to participate in events that do nothing but exude Trojan pride.