The sound of a crackling fire fills the Alice C. Sabatini Gallery at the Topeka & Shawnee County Public Library. In fact, the projection of a fire is one of the first things you see when entering. The Sacred Fire is something Native nations hold in common, a gift from the creator to use in events and ceremonies.
Do Pi Ka: A Land Acknowledgement is an art gallery presented by 785 Arts, an authentic Native American gallery and studio. It opened on September 8th and will run through November 26th, with various parts changing and updating throughout its presentation. The gallery connects history and the present with art and culture, serving as a reminder that the land we live on now did not always belong to us. The art is presented to represent the Indigenous people who call Shawnee County home.
On October 12, a group of Equity Lab and gifted Topeka High students were invited to come visit the gallery. They were led by Zan Popp, the library's curator of exhibitions- a position she's been in for almost a decade. She took the students on a tour, telling the stories of the pieces and opening up discussions on how they interpreted the artwork.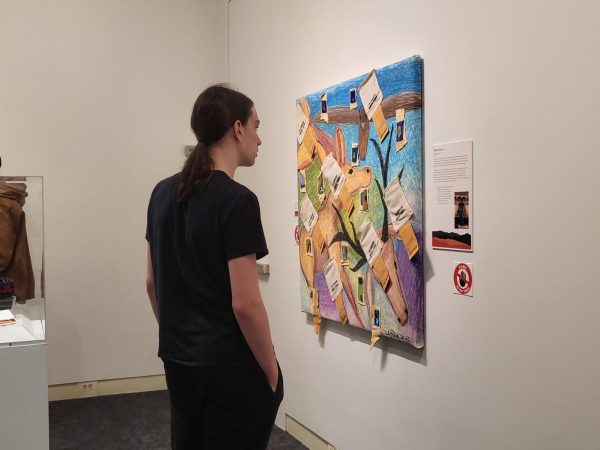 Though "please do not touch" signs sit next to the artworks, guests are welcome to touch several other parts of the exhibit. A board on the wall displays items such as deer skin, a sage bundle, and navajo wool, and can add a piece of fabric to the small loom in front of it. In addition to viewing the exhibit, guests can create a turtle craft out of popsicle sticks and yarn. These items were important to those who lived here before we did, and the physical aspects allow a deeper understanding of the history of our land those native to it.
The Topeka & Shawnee County Public Library invites Native residents of Shawnee County to send in a picture of themselves, their name, and the tribe they are enrolled in to be added to their "Native Topekans Today" wall, adjacent to the projection of The Sacred Fire. You can contact them at [email protected].