MLB Preseason power rankings– REVISED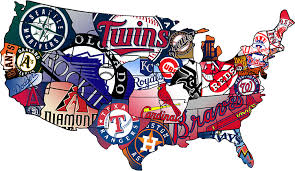 Sean McCarty, Reporter
March 9, 2018
The Major League Baseball season is literally just around the corner, and with big names and key players finally being signed and spring training underway, let's take a look and see who came out wanting a ring, and who won't stand a chance.
30- Miami Marlins- Last: 30- The Marlins have made no moves foward from dropping Christian Yelich, Marcell Orzuna, and Giancarlo Stanton. The Derek Jeter regime is under some heavy scrutiny right now and the only good thing that I can say about this team is they have Starlin Castro.
29- Pittsburgh Pirates- Last: 28- The reason the Pirates fell back, is they to have not made any moves to aquire any kind of a star player. The Pirates are really not built to contend and they need a real breakout star to help them out, preferably not one on PED's.
28- Tampa Bay Rays- Last: 27- The Rays are not subject to stay in their position at the bottom here, they have alot of future, most notably Chris Archer, who has a 3.63 career ERA, also, Logan Morrison hit 38 home runs last season, but this is just silver lining.
27- Cincinnati Reds- Last: 26- Cincinnati has major issues in it's pitching department, although Amir Garrett is going to be a solid #5 starter for them as they continue with their rebuild. Joey Votto is always good and Billy Hamilton is going to continue to be a great fielder.
26- Chicago White Sox- Last: 29- The White Sox have a chance to be better than they are. The AL Central is the weakest division in the MLB, and they have the batting presence of Jose Abreu, and Tim Anderson. If they can find a good starting pitcher, they could come out of a rebuild early.
25- Oakland A's- Last: 25- Khris Davis is the only good thing coming out of this team. The A's are in need of a good starting pitcher and a real bullpen. They really need to look into signing Lance Lynn or Jake Arrieta.
24- Toronto Blue Jays- Last: 21- The more I look at the Blue Jays, The more I see the flaws. They have starting pitching depth, with stars including Marcus Stroman, Marco Estrada, and Aaron Sanchez, they also have a solid line-up, they just really need a bullpen other than Roberto Osuna. And strangely Greg Holland's still a Free Agent……
23- Detroit Tigers- Last: 18- The Tigers are a mess right now and without Justin Verlander, completely out of the playoff picture. They have a jumble of a rotation, headed by the inconsistent Jordan Zimmermann, and they have no line-up, they just have Miguel Cabrerra.
22- Philadelphia Phillies- Last: 20- The Phillies are not a bad team, they just aren't a good one. With the acquisition of Carlos Santana, that adds power to their line-up, and Aaron Nola was a solid pitcher in 2017. If they sign Jake Arrieta or Lance Lynn, that could put them on the radar.
21- Seattle Mariners- Last: 17- The Mariners are a wildcard to me, they have King Felix, and they have Ichiro back again, but that alone isn't going to get them anywhere. They need a strong hitter in the line-up and just one good reliever and they could be good.
20- Kansas City Royals- Last: 14- The Royals might be a team to watch in 2018. After signing Lucas Duda, Jon Jay, and finally signing back Mike Moustakas, Which was a huge gain. Plus, maybe Jorge Soler found his bat. I don't really know what to expect from the Royals, but it can only get better from here.
19- Atlanta Braves- Last: 19- The Braves, backed by the best farm system in the league, could be legit contenders. They also have a flowering Major League roster as well, garnering big names such as Freddie Freeman, Dansby Swanson, and Julio Teheran.
18- Baltimore Orioles- Last: 23- These guys are literally the first to move up on the list, and for good reason. They signed Andrew Cashner and Chris Tillman, which gives them a good rotation, and they have a good line-up, assuming Mark Trumbo can come back from his Dismal 2017.
17- San Diego Padres- Last: 24- THEY SIGNED HOSMER!!!, in other words, Wil Meyers will be in an outfield in desperate need of a standout player. If they could get a solid starting pitcher, they could be set up for a playoff run very soon.
16- Los Angeles Angels- Last: 22- My optimism has grown for the Angels since I last reviewed them, and it's not because of Ohtani. If Garret Richards can come back from a down year and pitch good, combine that with the GOAT Mike Trout, and yes, Shohei Ohtani, then they can give an AL Wildcard contender a run for their money.
15- Minnesota Twins- Last: 16- This is the team that should be worried about the Angels. Miguel Sano is a good DH, but not a great one, and the are in real need, like so many others, of a starting pitcher. Arrieta would be a good fit here.
14- Texas Rangers- Last: 13- The Rangers are the biggest wildcard on this list. Yes, Yu Darvish is with the Cubs, but they still have Cole Hamels, that's good right? Mike Minor is a good acquisition for them, and their line-up is still a very potent one.
13- New York Mets- Last: 11- The Mets are a good team, believe me, they had a World Series team in 2015, but unlike the Royals, they still have their team from then. If Noah Syndergaard, Jacob DeGrom, and Stephen Matz can stay healthy, and if Jeurys Famillia, and Matt Harvey can stay out of trouble, then we have a Wildcard contender at least.
12- Arizona Diamondbacks- Last: 15- I'm thinking that Zack Grinke had a down first year with the D-Backs, so expect to see him return to form. also, Paul Goldschmidt is a huge impact player for them, which could take them back to the playoffs.
11- Colorado Rockies-  Last: 12- The Rockies are getting better and better by the day. After getting Wade Davis off of the market, and getting Cleveland's Brian Shaw, and re-signing Jake McGee, this bullpen's looking like the Royals bullpen in 2015. Also with an offense consiting of Trevor Story, and Charlie Blackmon, the Rockies are very much contenders in 18′.
10- Milwaukee Brewers- Last: 10- Milwaukee is a literal half-step away from being in the playoff's, they just need a solid starting pitcher to see them through the season. With new players such as Lorenzo Cain, and Christian Yelich, they can add that to an outfield that was already good last season, plus, if the Korean-turn-MLB star Eric Thames can stay hot, they can knock some hard home runs this season.
9- St. Louis Cardinals- Last: 9- St. Louis Hasn't made any big moves this winter, but they have a good team that had a down year last season. if they can sign back Lance Lynn, get good pitching from Carlos Martinez, and Adam Wainwright, plus garner good years from Dexter Fowler, and Yaider Molina, then they are playoff caliber.
8- San Francisco Giants- Last: 8- San Fran has made a splash this winter, by most notably, trading the Pirates for All-Star Outfielder Andrew McCutchen, while also signing Tony Watson, Sam Dyson, and Evan Longoria, So yeah, another contender in the NL race in 18′.
7- Boston Red Sox- Last: 7- The Red Sox seem to be AL East favorites almost every year, and if they can keep it together for the playoffs, they are golden. The Red Sox have said that they will tone down the use of their main flamethrower, Chris Sale, if he can stay rested and healthy, and Rick Porcillo can come back to 2016, they are World Series contenders.
6- Los Angeles Dodgers-  Last: 3- The Dodgers have all of the pieces to make a World Series repeat, but I think they have their work cut out for them this season. One thing I have to say is their bullpen needs to stay sharp, because they have an almost unstoppable starting rotation, but without Brandon Morrow, and Tony Watson, they could find them selves home early this season.
5- Cleveland Indians- Last: 5- The Indians are like the AL version of the Dodgers, their bullpen is the only thing that worries me. The Indians have the best rotation in the AL, if not the MLB, consisting of reigning Cy young champion Corey Kluber, and the ever-changing Trevor Bauer. Put in a Little Lindor and a lot of love, they have a day in late October waiting.
4- Chicago Cubs- Last: 4- The Cubs have not ceaced to impress, rookie Ian Happ has hit 4 home runs in spring training, and rumors of Happ being the new lead-off man could mean the end of the "Kyle Schwarber as lead-off". Jon Lester has been getting better at doing pick offs and throwing to first, an Yu Darvish has yet to lose his Ace status.
3- Washington Nationals- Last: 6- What could go wrong? they have the greatest one-two punch in starting pitching history with Scherzer and Strasburg, Bryce Harper is always in the MVP talks, and if Adam Eaton can come back from his injury well, and Anthony Rendon can continue to produce, they are legit.
2- New York Yankees- Last: 1- The Yankees are a scary thing to think about going into 2018. They have the hardest hitting line-up of any team in the league, with players like Aaron Judge, Gary Sanchez, and Giancarlo Stanton. If they can find some consitency in their pitching, and Greg Bird and Aaron Hicks can find a bat, I see a comeback of the evil empire.
1- Houston Astros- Last: 2- The Astros are the defending champs, and they act like it too. Jose Altuve, Carlos Correa, Alex Bregman, Dallas Kuchel, Justin Verlander, the list of stars goes on. They'll have to really want it in 18′ if they have a chance at a repeat.