MLB PRESEASON POWER RANKINGS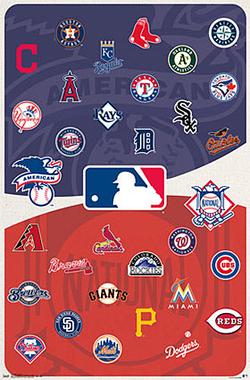 Hang on for a minute...we're trying to find some more stories you might like.
With the MLB season just a month away, everybody wants to know who came out on top this winter.  The Yanks are definantly a powerhouse with the Stanton trade, and the Brewers have definantly made some moves, and you may want to watch out for the Cardinals in 2018. So without further review, here are my rankings that are way to early for my own good.
30- Miami Marlins- Miami fans, my advice for you is to get ready to have a 100-loss season. With Stanton in New York, Yelich off to Milwaukee, and many more trades being anticipated, I'll be surprised to see if they get 60-wins
29- Chicago White Sox- Chicago is in full reboot mode everyone, just to let you know. Tim Anderson Batted .257 last season, which is not a bad average, and Jose Abreu continues to be the face of what little this franchise has left.
28- Pittsburgh Pirates- The Pirates are in the same boat as the Marlins, they won't be in the playoffs this season. If Ivan Nova can rebound from his slump last season, then he could be the first step in their rebuild.
27- Tampa Bay Rays- Who else do they have other than Chris Archer? Lucas Duda? Free Agent. Logan Morrison? same boat. If the rays don't start getting some of their solid starters back, then they can kiss their Autumn dreams good-bye.
26- Cinncinatti Reds- Cincinnati saw flashes of a solid starting pitcher in Amir Garrett last season, and Joey Votto was a .300 batter as well, so they have the building blocks, they just need to focus on the rebuild, and they'll have their day in late October soon.
25-  Oakland A's- Khris Davis is a pretty good DH, but I can't find anything good to say about them after that. The A's, like so many others, really need to find a solid starting pitcher to build around. I hear Jake Arrieta is for hire……
24- San Diego Padres- If the Padres would sign Hosmer, they would be set at first base for years to come, and come a lot closer to playing in October. If they really want to finish their rebuild, they should also look into some starting pitching and take a peek at their bullpen that desperately needs some help.
23- Baltimore Orioles- The O's are in desperate need of a rotation and bullpen reboot, and might I suggest Greg Holland for the bullpen? they have some of the pieces to make a good team, but given the division they are in, I don't foresee the playoffs in their future.
22- Los Angeles Angels- With Ohtani coming to town, you might be optimistic, but they would rank a lot higher on this list if they had signed more starting pitching and maybe a couple bats. I'm not saying they are out of the playoffs, but I'm definitely not saying they are in.
21- Toronto Blue Jays- Toronto is kind of a wild card, which makes it hard to be optimistic, but if Aaron Sanchez, and Marcus Stroman can return to form then it won't be hard for them to make it back. Plus, with the added bats of Randal Grichuk, Kendrys Morales, and Josh Donaldson, they have a hitting presence, they just need to back that up with some pitching.
20- Philadelphia Phillies- Now I know what you're thinking, what are the Phillies doing up here? well let me tell you. Carlos Santana adds a powerful hitter to the line-up, and Aaron Nola was a solid pitcher last season, with a 3.54 ERA in 168 Innings.
19- Atlanta Braves- The only reason the Braves are ranked this high is because they have the best farm system in the game. But they also have some good prospects on the major league roster, like Dansby Swanson, Julio Teheran, and Freddy Freeman, who all are October-Qualified players in my eyes.
18- Detroit Tigers- They have the pieces for a solid line up, and Jordan Zimmerman is a capable replacement for Justin Verlander, but I think that they should start on a rebuild and get some young hitters in the line-up to look for a replacement for Miguel Cabrerra.
17- Seattle Mariners- Felix Hernandez is not who he once was, but he's still a very good pitcher. Combine that with the power of Nelson Cruz, and you have two mentor players perfect for a rebuild.
16- Minnesota Twins- This one is a big maybe. Miguel Sano hasn't been the most consistent pitcher in the league, but their line-up is nothing short of a menace for opposing teams. with Michael Pineda, Brian Dozier, and Joe Mauer still with them, they have a chance at a wild card repeat, I just wouldn't get my hopes up.
15- Arizona Diamondbacks- The D-Back's put me in a strange position, I want to feel optimistic, but I just can't see past the inconstancy's. Paul Goldschmit is a solid baseman for them, and if Zack Grenke can get back to his Dodger days, they have a team good enough, but not good enough for a deep run in October.
14- Kansas City Royals- The Royals are just handling their team wrong, and it's more the upper management that needs a reboot, rather than the team itself. Whit Merrifield is a pretty good second baseman, Salvador Perez remains one of the elite catchers in the game, and Danny Duffy is not a pitcher to sleep on. the one glaring problem is their bullpen.
13- Texas Rangers- The Rangers were either sleeping all of last season, or they just had a bad year. The Rangers have all of the same players for when they won the AL two seasons ago, but they have to capitalize on their pitching.
12- Colorado Rockies- If they sign back Greg Holland, I could dig the Rockies in 2018. they have a strong enough starting line-up to get them through the year, and if they took a little more care into getting some quality pitching, they could be a real contender this season.
11- New York Mets- the Mets are a good team, but staying healthy is an issue. If Noah Syndergaard, Jacob DeGrom, Jeurys Familia, and Matt Harvey can stay healthy and out of trouble, Then they have a good rotation and bullpen. Add in an Adrian Gonzales, and Yoenis Cespedes led line-up, stocked with players that can get on-base, they could be a contender in 18′
10- Milwaukee Brewers- The Brewers have been in the news almost as much as the yanks in recent weeks. First adding Lorenzo Cain to their already solid outfield. Throw in a little bit of Christian Yelich, you have one of the best outfields in the majors. The two questions I have are: Did you leave a budget for your pitching? and, can Eric Thames be just as good this year?
9- St. Louis Cardinals- The Cards are a bit of an iffy on the division, but as a contender they are there. If they can get Lance Lynn back, they have a great rotation. Aside from that, Carlos Martinez could be a sleeper Cy Young candidate, and with the acquisition of Marcell Ozuna, They are definitely back to being a playoff constant.
8- San Francisco Giants- The Giants could be more than just a playoff contender this season. Acquiring Andrew McCutchen from the Pirates, they should be set in center field, but they need to wake up if they want to gun for the division, because they are more than capable.
7- Boston Red Sox- Boston's problem isn't in it's ability to win in the regular season, no, they've won the AL east two straight years in a row, but they need to get more playoff consistency and find more people to get on base for them and they could be a world series contender.
6- Washington Nationals- The Nat's have taken the NL east 3 of the last 4 seasons, and they have some of the best pitching in the NL, but they also, like the Red Sox, need to step up in the post season to get their first Championship.
5- Cleveland Indians- The Indians team seems like it's slowly falling apart, Rajai Davis left after the 2016 season, and Carlos Santana left this season, but their pitching is still there and it's as good as ever. Cory Kluber is playing at the Cy Young level, Trevor Bauer and Josh Tomlin continue to find ways to win, they are a world series contender and will be for the next few years.
4- Chicago Cubs- With or without Jake Arrieta, the Cubs can continue to thrive in the NL as one of the top teams just for the amount of talent they have. Ian Happ was a good call-up for them last season, and they can compete with the Dodgers and the Nationals for one of the best rotations in the NL, if not the league.
3- Los Angeles Dodgers- The Dodgers were indeed robbed of a World Series win last season, but they are built to go that deep again in 2018. Expect to see Corey Seager tear things up once again this season, and Clayton Kershaw is still the best pitcher you can find if he can stay healthy.
2- Houston Astros- The Astros, World Series Champions? Who would have imagined, and the only thing I can really say is they need to enjoy the ride, because a new AL menace emerges in the Bronx.
1- New York Yankees-52, that's the number of home runs Aaron Judge hit last season. 59, the number Giancarlo Stanton hit last season. If you do the math, that's a total of 111 home runs between the two, so if their pitching can stay at good, I foresee a comeback of the Evil Empire soon. Very soon.