Cole's Corner: A Look into the Draft – Running Backs
Hang on for a minute...we're trying to find some more stories you might like.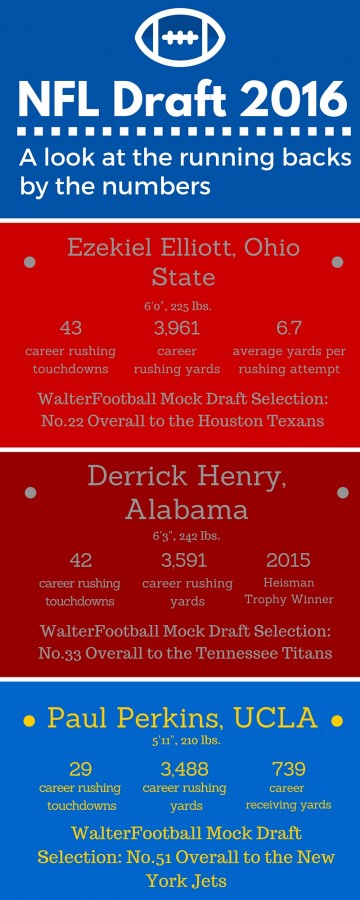 With the 2015 season coming to a close today, things will begin to heat up in the draft process. Here's a look at the running backs.
If there's one word to describe this running back class, it's lackluster. Yes, Ezekiel Elliott is a standout running back prospect who sits atop his respective throne, but there's not many behind him with the same abilities. Typically, running backs can be picked in the later rounds and thrive at the next level, so it'll be hard to tell whether or not some of these guys will pan out.
Ezekiel Elliott
If any running back is the king of the hill, it's Elliott. He's got a blend of traits which make him a diverse back and it's easy to see why he's been the consensus top back since early in the process. It'll be interesting to see where Elliott gets selected. He's certainly not Todd Gurley, but don't be surprised if he ends up being a top-15 selection.
Pros:
He is great with the ball in his hands, running with pure instinct. For the most part, does a great job of seeing the hole and letting blocks develop. He also does a good job of cutting through tight spaces and moving around defenders with quick feet.

Also great without the ball. He's known as a great pass blocker.

Build also him to run with strength. Lower body is thick and allows him to power through weaker tackles. His legs also don't stop till the whistle blows.
Cons:
Does lack burst. Can't seem to hit his 'second wind' often.

While he can block for the passer, he doesn't have spectacular hands.

Lacks top end speed to an extent.
Derrick Henry
The 2015 Heisman winner is certainly an intriguing prospect. He's abstract. The typical power back, standing at 6'3", 242 lbs., he ran for an NCAA leading 2219 yards and 28 touchdowns his senior year. Stats certainly aren't a good measure for any prospect, but they give some insight into Henry. A lot of people disregard Henry as a serious prospect because of his tools, or lack thereof. Regardless, Henry's polarizing talents won't overshadow his abilities, as he'll surely find a home come draft day.
Pros:
Uses his huge body to his advantage, allowing him to gain momentum when he puts his body into his run, barreling over opposing defenders.
Surprisingly fast for his size. He's reportedly been tacked as running a 4.5 40-time. He also has a great motor.
Cons:
While his size may seem overwhelmingly amazing, it could be his downfall. Big running backs are a rarity in the NFL anymore and Henry's 6'3", 242 lbs. bulky frame may turn teams away from him as a credible running back prospect.

Henry's natural speed is phenomenal, especially for his size, but it's all he's got. He's not an agile back who can dance around defenders in tight spaces.

His ability to create is unproven. Henry's lanes were always paved during his senior year, as he ran behind the best offensive line in the nation. He's going to need to prove he can make running lanes for himself in one form or another.

He's a situational back. He's beneficial for 1st and 10s, 2nd and 10, and short yardage third and fourth down situations, but beyond that, there's not a lot. He isn't a pass catching back, so seeing him on third/fourth and long would be rare.
Paul Perkins
Perkins isn't a day one prospect, but his potential appears notable. Perkins led the PAC-12 in rushing his sophomore year and showed glimpses of standout play during his time at UCLA. Don't expect Perkins to be a fast rising prospect, but his value as a mid-round prospect will be substantial.
Pros:
He's versatile. Does a great job getting the ball in the backfield and running with speed or with power. Just as well, he's a third down back who can catch the ball.

His speed is his greatest weapon. He can make defenders miss with his agility and does a great job of cutting back to open space.

He doesn't go down easy. A lot of film shows him breaking through tacklers to gain more yardage.

He can get his second wind when finding open space to get past defenders.
Cons:
He can create, but a lot of the time he ends up spending too much time waiting for holes to open. Needs to work on hitting the hole sooner.

Size may be a factor, but he needs work as a pass blocker.
Final Verdict
While Elliott is considered the top notch prospect at the running back position, Henry will be the unique storyline to watch throughout the process. His size is polarizing, as it will either lead him to success or be his downfall. It's very possible he ends up being a first round selection, but he could also fall even farther in the draft. Also, Perkins is an extremely under the radar prospect who could make some surprising waves. He has all the tools to thrive as a modern NFL running back and him shooting up draft boards would not be a surprise. Don't be surprised if the running back class shakes up before draft day.