Substitute Teacher Punches Ticket to Nationals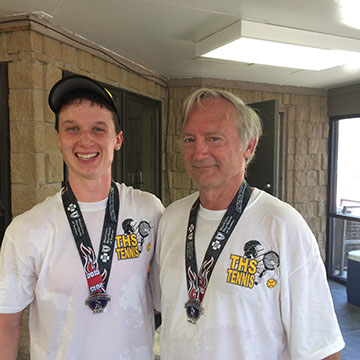 Hang on for a minute...we're trying to find some more stories you might like.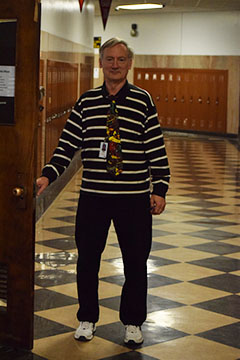 Whether you're talking about his time as the mayor of Topeka, his tenure as the bowling coach, his success as a tennis coach, his "good cop" role as drill instructor for JROTC, his subbing career or simply his time as a teacher, there is no doubt Duane Pomeroy has worn a lot of different hats (or ties in his case). Outside of these roles, many know him for his elaborate collection of ties (over 500) or his witty puns. However, very few are aware of Pomeroy's success on the national tennis circuit.
Pomeroy grew up playing tennis with his mother and his grandfather. He loved the game so much he played outside year round. He recalled, "Grandpa and I played year round outdoors even when the temperatures were below freezing." Fittingly, Pomeroy started his official tennis career at Topeka High. He continued playing in college at Emporia State before transferring to Washburn University.
Pomeroy made his way back to Topeka High and became the school's tennis coach in 1993. Four years later he started playing in the United States Tennis Association (USTA) League games.
Pomeroy qualified for Nationals on an 18 and over team for the first time in 2001 and then for a senior team in 2002. Unfortunately, both of the Nationals tournaments were during the same time as high school tennis girls state, so Pomeroy was forced to forgo his opportunity to take care of business on the home front.
It wasn't until seven years later that him and his partner won the Missouri Valley seniors again, and he booked his flight to Nationals.  Him and his partner went 4-0; however, the rest of his team was not as successful.
His next trip was in 2012 where he played with three different partners, went 5-1, and placed 3rd in the nation for seniors. His third trip was last fall where he went 3-1. Incredibly, his overall record at Nationals is 12-2.
Also this last fall, Pomeroy played on an 18 and over team that won the Missouri Valley Sectional in Des Moines, Iowa, effectively punching his ticket to play in the National tournament in Palm Springs during Spring Break. Although he is playing people in their 20s and 30s– of whom he describes as slightly more agile than him– Pomeroy will look to use his almost 55 years of experience on the tennis court to guide him to victory.
At 65, he is the second oldest on his team. His partner, Michael Joens, a recent graduate of Topeka High, commented on their partnership, "He's been playing his whole life and has a lot of tricks that leave me dumbfounded at times."