Reel Reviews – The Lobster
September 5, 2018
Let me start this review by saying: yes, I'm confused, too. For those who have come to witness the abstract semi-masterpiece of cinematography, it's not an uncommon statement that The Lobster is something no one can predict. Speaking as someone who only saw one advertisement before actually watching the film, it's easy to say the portrayal was a poor representation of the true uniqueness directed by Yorgos Lanthimos. For, even after I had finished it, meaning was something oblivious to me and those I'd invited to see it as well.
In a dystopian setting, presumably around Ireland, we are introduced to David (Colin Farrell); an older, single man who is shown giving a thorough description of himself to a woman at a desk. This is because his wife passed away previously and, according to the law of the near-future, those who are single must successfully complete a course to find a partner within 45 days at their hotel. Fail to fall in love, and a resident will be skinned, pulled apart and harvested for their internal organs so that they can be turned into an animal of their choosing, only to be released into the woods that surround the secluded resort. If they do succeed, they are taken to another isolated building where they will finalize their relationship and move on to the city where people carry identification that proves they have a partner.
Some have tried to escape and reside deep within the trees, but are hunted down daily in a colossal hunting trip that involves residents of the hotel going in with guns that keep rebels down long enough to take them back to a special room so they can be transformed. The story revolves around David and the friends he meets along the way to survival.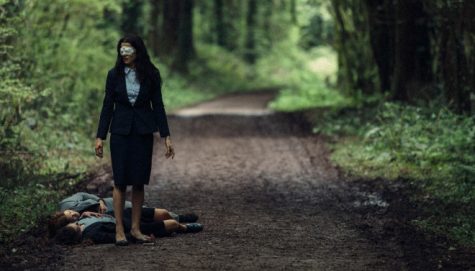 Photo (Blind Field Journal)
But what does it represent?  That was a large part of my confusion, I think. The story is built on a foundation of harsh reality in a way no witness can correctly explain. Though I can't spoil the feeling for those who haven't seen it, I can say that there's a certain vagueness –  so strange, it makes for the perfect symbolism of actual occurrences. Which brings me to another point: tone.
Painfully dark since the title sequence, The Lobster is a continuous binge of what that brings new feelings to twist and turn your stomach in knots. The closest thing I can compare it to is a fever dream – but in the best of ways. It leaves you wanting answers, romance, and most of all: more. Luckily, it quenches the thirst for creativity every other scene. I laughed. I cried. I almost threw up; and all in an underlying tone of the building panic attack that I was forced to crave. Suspense. Action. Almost as if Wes Anderson and Stanley Kubrick decided to direct the Hunger Games.
But while it is candy to the eyes and ears, there are some cons. For example, this film is notorious for being bland and, quite frankly, monotone. I couldn't help but feel like I was watching famous actors read books on tape while they danced furiously to electronic music and stabbed each other with stone expressions. Where was the emotion? Where was the soul? Though I wanted these things, I knew far too well that the calm and steady mood of the entire film was there for a reason. So, if they were going for lifeless and dull, they succeeded.
Another issue was the bombardment of plot lines fit into one abnormally long movie. Some were more interesting than others, some so profoundly pointless that It wouldn't affect the movie if they were removed. Two stood above the rest however. These two series of events were handled too delicately and should have been paid more attention to. Without clarification or some form of closure, the curiosity clung too close and made the experience harder to comprehend with full appreciation.
Overall, I would strongly recommend this to anyone who has enough time to appreciate the dark art of filming. While there are cons, pros overpower them by a long shot and nearly erase their existence. This film will make you wonder, feel and think. I could easily watch it again. 9/10.