Reel Reviews – Monster's Ball
September 5, 2018
Remember World War Z? Brad Pitt, zombies, etc. A flop, really. Something you probably don't think of when it comes to groundbreaking apocalypse flix. Well, this film is a great example of a poor thing created by a great director. For while he directed WWZ, he also released a brilliant film known as Monster's Ball in February 2002.
Centered around a corrections officer – Hank (Billy Bob Thornton) – this film dives into the issues of poverty, racism, and death in rural Georgia. After the suicide of his son (Heath Ledger), Hank is thrown into a fit of self-conflict when he quits his job as a lawman and is forced to stay at home with a sickly father. Soon, he finds himself in love with a young woman named Leticia (Halle Berry), who shares similar hardships. Together, they face whatever life throws their way.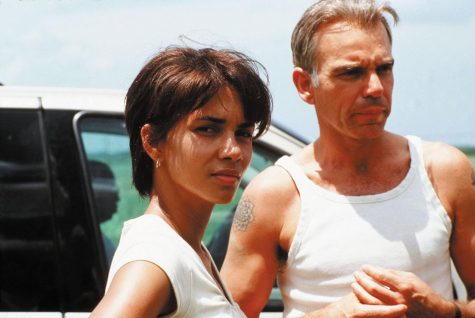 Photo – Monster's Ball (Trailer), Youtube
At first glance, I was already drawn in by the visuals. Though not extraordinary, I could tell that time went into giving this movie its dark tone. Not unlike Dead Man Walking (1996), the beginning focuses around the final moments of a death row inmate. It follows his personal life – bringing greater understanding to the hardships of those who are effected. Leticia, the wife, and the executioners, Hank and his son. One thing I appreciated about this concept was the lack of anticipation. For while most movies have a goal, this one acted as if it were playing day to day – which, of course, is unpredictable. However, this was not less uneventful. I've only seen this done in two movies now, and still find it incredibly hard to write.
On the subject of writing, the script was almost perfect for what it was supposed to be. Known for being realistic, this film did not stray from the harsh world of those who lived in poverty and witnessed racism on a daily basis. Hank's father shows just how bad it could get, too. In fact, he played a large part in his grandson's suicide. For while he lived with him, he treated everyone fairly; and soon grew incredibly tired of how dark his world had become.
Something I noticed from this was a character development flaw. Though spoken well, sometimes I found characters progressing a tad too quickly. After all, for the amount of inner conflict that a normal person would suffer in these situations, I found Thornton's character gliding over as if he'd been through it all before. Yes, he was supposed to keep to himself. And no, I didn't find that sitting down in an emotional epilogue was his thing. But some kind of indication of struggle was necessary. Thankfully, this did not take too much from the plot.
Overall, I found this movie dark, but entertaining. Something to watch on a rainy night, sat wrapped in something warm with a dog curled at your feet. For while it didn't leave you laughing or overcome with joy, it does make you think. It's one of those movies you can sit and talk about afterwards. Final rating: 7/10.