Reel Reviews – There Will Be Blood
December 7, 2017
Those familiar with film in the last couple of decades can easily recognize the title No Country for Old Men as a work of art, written and directed by the Coen brothers and released in November of 2007. It was instantly acclaimed by critics and remains a cult classic until this day. However, despite the praise it received, a film crew mere miles away was creating a masterpiece as well. The film I'm referring to is none other than Paul Thomas Anderson's: There Will Be Blood (based off of Upton Sinclair's novel: Oil!).
When I'd first been recommended this film, I was hesitant to carry through with the suggestion. After all, having been deeply submerged in what some would refer to as an obsession with No Country, it was hard to comprehend that anything could beat it in multiple categories of competition and conversation. However, if one has ever looked up the phrase "movies to see before I die," they will know exactly what I had to do.
As a student with a passionate allure to the making and writing of movies, It did not strike me as unusual that this film received the applause that it did.
Title screen.
Cut out of black.
The impact was immediate. No waiting, no guessing, the menacing nature is introduced within the first shot, led by screaming violins and dry, covert imagery. I was compelled before I could sit down. The tone is sinister and left me on the edge of my seat, begging for more. This was a common theme, it seemed. A sense of waiting that locked the witness in and left them reaching for the next conclusion in a series of twists and turns down the darkening plot-line. Aside from an enthralling story, the trepidation-inducing instrumentals and cinematography were nothing less than superlative to the point that I almost instantly fell in love.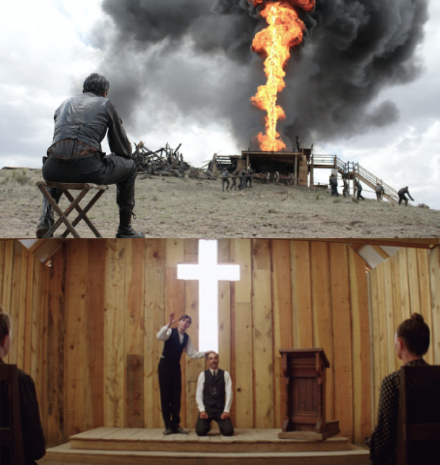 The story follows the mental downfall of Daniel Plainview (played by Daniel Day Lewis) as he ventures into the world of oil drilling with his son H.W. (Dillon Freasier) by his side. Many obstacles stumble across them, but none more profound than the business collaboration with Eli Sunday (Paul Dano) and his church of the Third Revelation.
Upon simply viewing the film, a place was already set aside in my list of top 10 favorites. Everything I love about film continued to show up from one scene to the next — finally ending in just the right amount of cynical darkness. As soon as the credits began to roll, I felt myself exhale from holding my breath through consecutive fits of ominousness and scenes shot so well they pent up inside and made me feel as if I was going to be sick if I didn't carry through with the abrupt burst of inspiration. 
However, I later found that there was much more to the filming process than I could have predicted. My first discovery was the method acting of Day Lewis.
Method acting: A technique of acting in which an actor aspires to complete emotional identification with a part
Some famous method actors include:
Heath Ledger – The Dark Knight
Marlon Brando – The Godfather
Robert De Niro – Goodfellas
Angelina Jolie – Maleficent
When one decides to become a method actor, they must completely dedicate their lives to the part they are assigned. In this case, Daniel Day Lewis lived his daily life as anti-hero Daniel Plainview. So much so in fact, that the man originally casted as Eli Sunday quit 5 days before filming began because of how much he intimidated him. This opened up an opportunity for Dano who soon took the part and gave Sunday the perfect portrayal with less than a week's notice.
Not only was this a surprise to Dano, but the actor who played Daniel's son as well. This was because of a quick decision of authenticity made by the creators. For while they looked for young actors in high places such as Los Angeles and New York, they wanted someone who had more of a "Texan" appeal — one that could shoot and had lived the lifestyle of the part they had been trying to cast. When arrived in Marfa, they asked around a local school and were recommended Freasier, who was later cast as H.W. Plainview.
As mentioned before, There Will Be Blood and No Country For Old Men had quite a lot to do with each other during and after filming. Both shot in Marfa, Texas, they released into a sea of criticism and comparison for best and worst in a multitude of categories related to the standards of film. During the famous oil fire scene of There Will Be Blood, the Coen Brothers had to cease filming for multiple days to avoid the black cloud of smoke that blocked out their shot. 
Between the general quality of the film and the interesting facts beneath it, I could honestly say that There Will Be Blood was becoming one of the best movies I'd seen — in a cinematographic and literary sense. To know the close misses and quick fixes, it was incredibly hard to believe it turned out like it did. I would highly recommend it to anyone who enjoys watching and dissecting the plot of a brilliant writer and director.