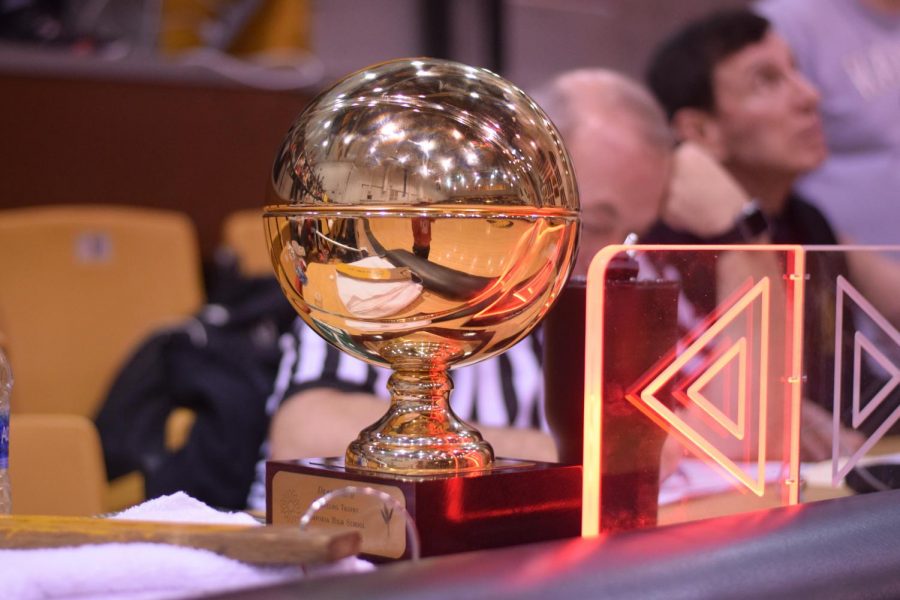 On Saturday February 24 the boys basketball team ended the regular season, centennial champions and the defending school for the Dean Smith trophy. Dean Smith was  born in Emporia and graduated from Topeka High later to become  the head basketball  coach for  North Carolina  winning over 800 games and being inducted into the FIBA Hall of Fame, later passing away in North Carolina at age 83. In honor of  Coach Dean Smith, Emporia high schools battles  against Topeka high for the trophy.
Having been worn out from a close game the previous night against Hayden high school, the boys pulled through with a victory over Emporia, winning 61-57 and defending the trophy for another year.
Ky Thomas, sophomore, had the high with 21 points," It was the team, they got me, they knew I was hitting threes in the first quarter so they got me the ball where I needed to get the ball and I had to set people up and it was just the flow of the game."
After asked what contributed to the win against Emporia high school Head Coach Patrick Denney said," It was such an emotional win last night (against Hayden) I think the Dean Smith trophy was part of it(victory) but I also think outright was part of it too, winning the league outright."
The boys basketball team enter into the playoffs on February 28 and  start their road to the state.