Cole's Corner: A Look into the Draft – Quarterbacks
Hang on for a minute...we're trying to find some more stories you might like.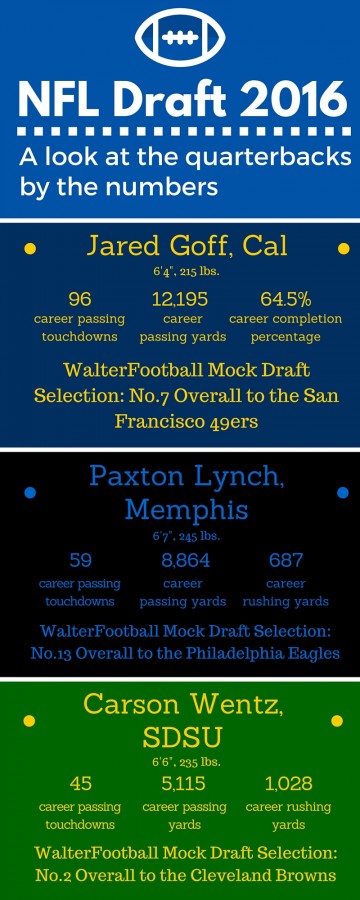 With the playoffs winding down, this series will look into the class of prospects in the 2016 NFL Draft, position by position. This week will look at the top three quarterbacks of the class – Jared Goff, Paxton Lynch, and Carson Wentz – and show the pros and cons of each.
Jared Goff
The Cal quarterback is someone who has faced criticism throughout the draft process, but tends to find himself underwhelmed. People forget one of the most important qualities in a quarterback is his character both on and off the field. Goff finished his freshman year leading the Golden Bears to a 1-11 finish, but by the end of his junior year, the team finished with a bowl bid bid and an 8-5 record. Yes, the verdict is more than open on Goff. His abilities under pressure, frame, and arm strength are all issues which hold prominence, but many forget just what he can do while leading a team and an offense.
Pros:
Of course, Goff is no Manning or Brady, but people miss out on his mental abilities at the position. Some don't even realize that he was in command of audibles and hot routes at Cal. Even though he captained a simple scheme, Goff has experience reading defenses and making play calls at the line, which is highly valued.
Goff is known as an accurate quarterback. He's a natural passer with a compact throwing motion, easily hitting receivers on short and intermediate routes. He flashes the ability to hit the deep route on occasion, but needs to find more arm strength to make progress on this.
The one thing people forget is Goff's athleticism. He isn't a scrambling quarterback, but he can extend plays through his ability to move around. He can scramble away from a collapsed pocket and throw on the run. That paired with his ability to extend a play mentally is something powerful.
Cons:
Goff's arm strength a huge question. He has a hard time accurately hitting receivers on deep routes, which could translate to problems in the NFL.
Some believe the arm strength issue goes hand in hand with his frame. Goff stands at 6'4", 215 lbs. He's lanky and although it isn't a serious concern, some see a potential durability problem with his build.
Although Goff's mental makeup is superb, he still has his moments of fault. There is evidence out of Goff falling through in the clutch against premium competition. He can look hurried and under distress in these moments. This is something that won't be tested again until he faces NFL competition.
Paxton Lynch
Lynch is one of the two high-rising quarterbacks in this class. He led the Memphis program to two bowl bid seasons in the three seasons he was at the program. He's a raw, instinctive prospect whose game is fun to watch, but will certainly need some fine tuning in order for him to hit his NFL Potential. Time will tell, but it'd be understandable to see Lynch learn from actual experience, or by sitting for a year or two and adjusting to the game.
Pros:
The noticeable thing about Lynch is his size. At 6'7", 245 lbs., Lynch's size is what a lot of franchises want in a star quarterback and it allows for him to be better in a number of areas.
Lynch's athleticism and size are an intriguing pair. He's huge in NFL terms, but he's also a quarterback who can scramble for the sake of extended a play or for the sake of getting yards.
The size also boosts Lynch's arm strength. In fact, it's where Lynch thrives. His best throws are 20+ yard bombs where he can hit his receivers in stride.
Lynch is certainly above his 'floor' of potential, but what's even more certain is he hasn't hit his ceiling. Lynch is guaranteed to hit his peak in the NFL if the right staff can make him better in the areas where he needs it.
Cons:
While Lynch's size is a blessing, it can also be a curse. His length doesn't allow for a compact throwing motion, which makes Lynch's delivery much more drawn out and wound up. Just as well, his footwork has come into question. He's not beyond the point of his this issues, but it's something that's going to hurt his stock.
Lynch hasn't hit his ceiling, which is good, but he's also a long ways away from hitting it. The fact that a team could spend a top-15 selection on a guy to sit two years, then find him to be a bust is a potentially huge risk for a franchise. This is what takes Lynch out of the top quarterback conversation unless he can show teams otherwise.
Carson Wentz
This guy is the hottest name in the draft class. The North Dakota State quarterback is the face behind the FCS Dynasty, helping lead the program to four National Championships in his four years as quarterback. He was also an incredibly smart student. He's know for a plethora of different facets and his performance at this year's senior bowl has only helped his draft stock rise.
Pros:
Wentz is a lot like Lynch in that his size is a substantial part of how he plays. His 6'6", 235 lbs. frame allows him to be a gunslinger with the football and run with a physicality not a lot of quarterbacks can.
Wentz is the most athletic quarterback of these three. Maybe not in terms of frame, but he scrambles and runs with the ball a lot. With over 1,000 career rushing yards, a lot of those came on plays where he made yards after contact, showing he's not afraid to run with some gusto.
Wentz's poise is second to none. No matter what the state of the pocket is, he isn't afraid to step up and take a hit if it means delivering a big time pass.
His arm as a whole has beautiful make up. His strength, accuracy, and throwing motion blend perfectly. He's able to make just about any throw and in any circumstance.
Throughout his time at NDSU, it was well know that Wentz was both coachable and a hard worker. His numerous academics awards go to prove that and his ethic and somewhat of a small ego are a quality that not a lot of NFL players have.
Cons:
The only real concern for Wentz is the competition level he faced at an FCS level. Not many think it will affect him at the NFL level, but some could see it as a cause for concern.
Final Verdict
This is a top heavy quarterback class, but the top three have enough potential to be premier quarterbacks. It's easy to see why teams could fall in love with each of them. Goff is a guy who's been a regarded talent since high school and showed why at Cal. He's also a textbook quarterback and has the potential to grow in many pro schemes. Lynch is someone who helped turn a struggling Memphis program around. Oozing with potential, he could develop into a Big Ben-type if handled right. And Wentz is simply a real talent. He's shown it to this point in his career and hasn't stopped. Ultimately, it depends on scheme fits and where teams select, but it's easy to see why Wentz has pushed ahead of these other two QBs. Some guys are great for whatever position they play. Quarterback, running back, linebacker, etc. But some guys are just great football players. They do whatever they can to help their team win, no matter what the cost. A more recent example of that is Brett Farve. Now, it'd be hard to compare Wentz to Farve in any light, but both were/are considered ballsy, tenacious football players who put the team ahead of themselves. Wentz's physicality, poise, and mental makeup all show that. It'll be interesting to see how things break down in May, but all eyes are on Wentz for the top quarterback selection.