New Baking Club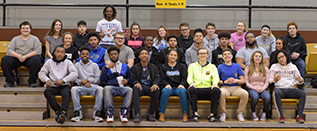 Hang on for a minute...we're trying to find some more stories you might like.
Baking Club may seem like a common club for a school like Topeka High to have, but before this year, students baking together wasn't heard of.
Isabel Huckins, senior, does a lot for her community, often working with Silverbackks, a group of volunteers that, through a variety of programs, help families and individuals who are in need.
"So I wanted to do something with Silverbackks last year, but then since we got a new principal, I had to wait until next year," Huckins said. "I had the idea of doing baking, so we did baking club where the stuff we made either was donated to Silverbackks, or the money we made went to Silverbackks." Huckins said.
The baking club has not been announced to the entire student body, but they plan to inform students about the new club over the Morning Report in the near future.
Alongside Quinton Johnson, Demontay Tarver, Ben Burton, and Alexis Kahler, sponsored by Tonya Sims, Huckins and the gang have been doing the occasional baking in the Culinary Arts room.
The Baking Club meets whenever the club members have free time.
"At our meetings we're either doing baking or we plan out when we're going to our baking next." Huckins said.
The Baking Club hasn't had as many baking sales as they would like but, this semester they've finally gotten into their groove.
"We had to deal with change due to the issues with serving food, and doing bake sales at the school. We haven't been able to do bake sales here yet, until now."
The Baking club will also be selling an assortment of baked goods and drinks.