Female Football Players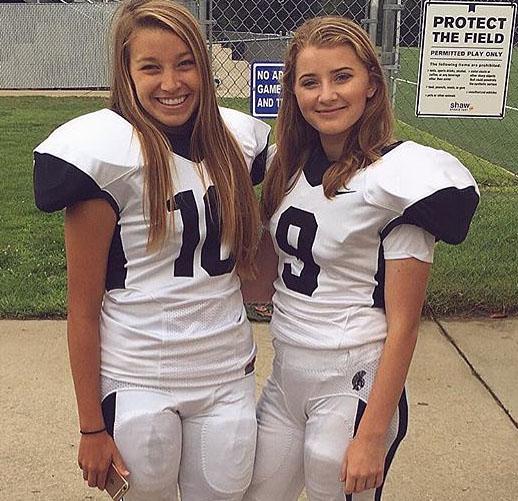 Hang on for a minute...we're trying to find some more stories you might like.
Ruth Fiander, senior, has been a kicker for the men's football team for three years.
"It's good to feel like a part of a team. It's a really good bond and we're like a trojan family."
Not only is she on the football team but Fiander is also on the girl's varsity soccer team and has been playing soccer since she was four years old.
"At first it was definitely a little awkward and intimidating being on a team with all boys." Fiander says. "Even now when we go to games I get stares sometimes from other teams and other coaches."
Before she started kicking for the team, Fiander has not played on a male dominated sport but it was no problem for her to adjust.
Our guys have done a really good job of accepting us being on the team and making us feel at home."
Being the kicker for a football team is not only intimidating but it can be a lot of pressure too.
"It is a lot of pressure to be on the field if there's a team winning and I have to make the field goal." Fiander says. "But, when I'm on the line I'm in my prime."
Lauren Dietrick, sophomore, recently joined the men's football team as a kicker.
"To me, it feels really good to be on the football team because it feels like [we] are changing it up." Dietrick says.
The Women's Sports Foundation shows that more than 700 women play on a high school football team. This isn't only for kickers either. Some teams have female quarterbacks, linebackers, and ends too.
"It makes our school feel different and look different because we have women on the team." Dietrick says. "At first I was really nervous being on the field, because all of the boys watched us kick but now they're really supportive and they have our back."
Being on a team that is dominated by men could be challenging as a woman in many ways. It often leads to drama and exclusion but the boys made sure to welcome them with open arms.
"They've made us feel very welcome on the team." Dietrick says. "They don't treat us any differently because we're girls. It just feels normal."
As for next year, Dietrick wants to continue kicking for the team and cheering on her teammates on the field.